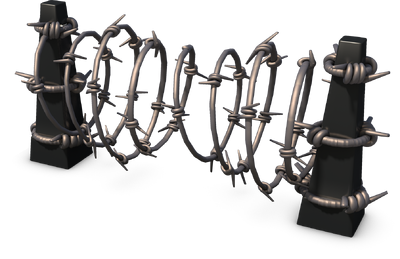 General Information
Barbed Wire is a defensive structure that can appear on high-end Operations.
Any troops walking in barbed wire will have their movement speed impaired and slowly lose health. This can be devastating against low health troops, especially Zookas which are commonly used in high-end Operations.
Barbed Wire has a base damage per second value of 80, but this damage is increased by Ice Statues present on the power base. They can be shocked so they will do no damage.
Barbed Wire is an invincible structure. Nothing can destroy the fence.
Offensive Strategy
When possible, find different routes that avoid barbed wire when using Zookas.
Trivia
Barbed Wire typically only appears in the highest level Operations (Deep Cut and above), but it may appear in the base named "Strange Attractors" all the way down to the Mambo Operation.
The real-world Barbed Wire was invented in 1865 by Englishman Richard Newton.
It is the only building that cannot be destroyed.
Troops that come in contact with the Barbed Wire will turn a bluish tint until they cease taking damage from the fence.