Cut Above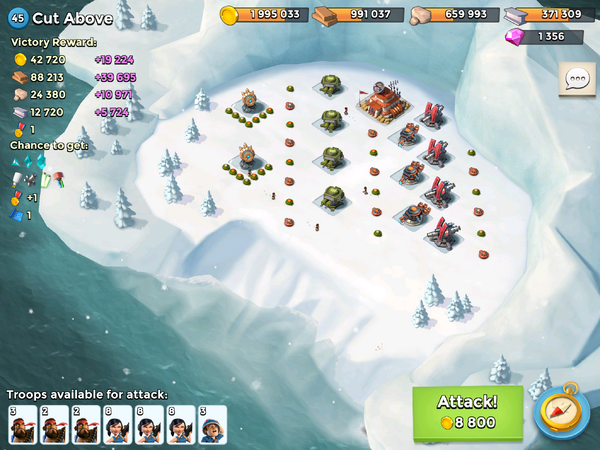 Buildings
Single-Target
Defenses
4
Multi-Target
Defenses
7
Shock Launchers
2
Non-Defensive
Buildings
0
Base Statistics
Total Buildings: 14
Total Energy Available from Buildings: 39
Total Energy Available from Non-defensive Buildings: 0
Destroying a building will reduce the HQ's health by 5.385%
Strategy
Recommended Army Composition: Heavy-Zooka or Heavy-Zooka-Medic
Walkthrough: Use Artillery/Barrage to destroy the topmost Cannon. Then use Artillery/Barrage to damage or destroy the two Shock Launchers. If using Artillery, aim in between the Shock Launcher and the Mines to affect them both. Deploy your Troops on the left of the beach. Immediately Shock the two Shock Launchers and Flare your Troops to the left of the base. Let them destroy the two Shock Launchers. Then Flare your Troops up the left side next to the topmost Machine Gun. Destroy the two topmost Machine Guns, and take down the Headquarters.
Alternate Strategy
Recommended Army Composition: Tank-Medic
Walkthrough:
Destroy the 4 leftmost
Boom Mines
by aiming a
Barrage
at the
Mine
between the first and second
Boom Mines
. Repeat this on the
Mine
between the third and fourth
Boom Mine
. Deploy your
Troops
on the left side of the beach and immediately
Flare
them to the left of the first
Shock Launcher
. Use a
Shock Bomb
or two to disable the two
Shock Launchers
. After they have taken out the
Shock Launchers
and the
Machine Guns
,
Flare
your
Troops
up the left side and take down the
Headquarters
. If done correctly, you should remain out of range of the
Cannons
and escape unscathed.
Community content is available under
CC-BY-SA
unless otherwise noted.