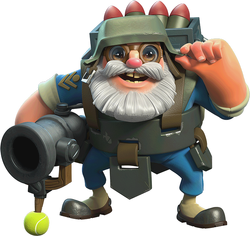 "The Bombardiers can shoot with pin point accuracy from a large distance, dealing massive damage. They require extra energy to deploy as they are slightly older (but more experienced) than most troops."
Summary
The Bombardier is the tenth Troop unlocked in the game. It is unlocked upon reaching Headquarters level 21.
Bombardiers have high damage output and very long range (longer than Grenadiers) but are extremely fragile for their large size.
Each Bombardier costs 1 Gunboat Energy to deploy.
Visual Appearances
The Bombardier appears as an old man with a white-haired moustache and beard.
He wears a green vest which has bomb shells on its back. Below the vest is his uniform.
The Bombardier wears a hard hat and goggles on his head.
The Bombardier wields a small cannon which has been modified to double as a walking stick, bolstered by a tennis ball under it.
Offensive Strategy
Defensive Strategy
Avoid placing exposed Flamethrowers, Machine Guns or Cannons on the front lines without any protection, as Bombardiers are able to outrange all three. Depending on the warship layout, placing them at the edge just before a landing zone may still work if placed properly.
Several Prototype Defenses can work well against the Bombardier:
Upgrade Differences
There are no visual changes between levels, but each upgrade increases the Bombardier's hitpoints (by 25%), DPS (by 200) and training cost.
Trivia
Bombardiers were formerly usable only on Warships. They were added for season 3. After Warships season 4 ended, they were made usable on the main island.
The Bombardier has the highest range of any non-prototype troop.
The Bombardier is currently the only non-mechanical troop that requires Gunboat energy to deploy.
The Bombardier and the Zooka are the only troops with higher DPS than Hitpoints at all levels (with no Statue bonuses).
The Bombardier and the Mech are the only troops that do not have unlock quotes, unlike all other troops.
According to his uniform, he is a corporal.
Statistics
| Unit Size | Training Time | Movement Speed | Attack Range | Attack Speed | Splash Radius | Headquarters Level Required |
| --- | --- | --- | --- | --- | --- | --- |
| 8 | 15m | Moderate / 200 | Very Long / 12 Tiles | 2.2s | 1 Tile | 21 |
| Level | Hitpoints | DPS | Damage per Shot | Training Cost | Research Cost | Armory | Research Time | Instant | XP Gain |
| --- | --- | --- | --- | --- | --- | --- | --- | --- | --- |
| 1 | 250 | 1,100 | 2,420 | 17,000 | N/A | 21 | N/A | N/A | N/A |
| 2 | 300 | 1,300 | 2,860 | 20,000 | 7,500,000 | 21 | 4d 12h | 2,498 | 103 |
| 3 | 380 | 1,500 | 3,300 | 25,000 | 7,500,000 | 22 | 4d 14h | 2,509 | 105 |
| 4 | 500 | 1,700 | 3,740 | 30,000 | 8,000,000 | 23 | 4d 16h | 2,603 | 107 |
| 5 | 600 | 1,900 | 4,180 | 35,000 | 8,500,000 | 23 | 4d 18h | 2,692 | 110 |
| 6 | 700 | 2,100 | 4,620 | 40,000 | 9,000,000 | 25 | 4d 20h | 2,785 | 110 |
Warships
Rank

Level

Reserves Size

Upgrade Tokens

Tech Level

1
1
28
N/A
5
2
2
34
135,500
10
3
3
40
164,000
15
4
4
46
198,500
20
5
5
52
270,000
25
Total
768,000
75