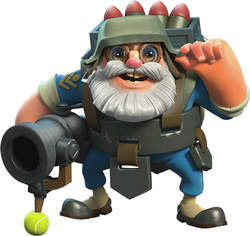 "The Bombardiers can shoot with pin point accuracy from a large distance, dealing massive damage. They require extra energy to deploy as they are slightly older (but more experienced) than most troops."
Summary
They are similar to Zookas, having high damage output and very long range (as Grenadiers) but are extremely fragile for their large size.
Visual Appearances
The Bombardier appears as an old man with a white-haired moustache and beard.
He wears a green vest which has bomb shells on its back. Below the vest is his uniform.
The Bombardier wears a hard hat and goggles on his head.
The Bombardier wields a small cannon which has been modified to double as a walking stick.
Offensive Strategy
Defensive Strategy
Trivia
Statistics
| Unit Size | Training Time | Movement Speed | Attack Range | Attack Speed |
| --- | --- | --- | --- | --- |
| 8 | 7m 30s | Moderate / 200 | Very Long / 12 Tiles | 2.2s |
Input total Statue bonuses to modify the statistics in the table below accordingly
Troop Health+%
Troop Damage+%
| Level | Hitpoints | Damage per second | Damage per Shot |
| --- | --- | --- | --- |
| 1 | 120 | 494 | 1,086.8 |
| 2 | 171 | 618 | 1359.6 |
| 3 | 245 | 882 | 1,940.4 |
| 4 | 350 | 1,260 | 2,772 |
| 5 | 500 | 1,800 | 3,960 |