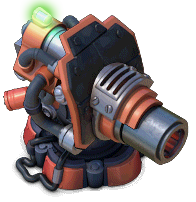 "The Boom Cannon fires devastating shots but takes a while to reload. Even the strongest armor is no match for the Boom!"
---
| | | | | |
| --- | --- | --- | --- | --- |
| | | | | |
| Level 1 | Level 2 | Level 3 | Level 4 | Level 5 |
| | | | | |
| Level 6 | Level 7 | Level 8 | Level 9 | Level 10 |
| | | | | |
| Level 11 | Level 12 | Level 13-14 | Level 15 | Level 16 |
---
Summary
The Boom Cannon is the sixth defense to unlock in the game.
The Boom Cannon is a long-range, single shot defense that deals very high damage per shot, but with a slow rate of fire. 
Offensive Strategy
Defensive Strategy
Once a total of 4 Boom Cannons are available, it is effective to place them in a diamond or square formation in your base well distanced so that it covers as much of your island as possible.

On the other hand, you may want to place them all close to your Headquarters to prevent attackers from avoiding certain Boom Cannons entirely simply by attacking the base from the opposite side.

Do not place your Boom Cannons in front of all your other buildings like many people do. Boom Cannons are most effective when they are able to take advantage of their long range and target attackers' troops for long periods of time.
Upgrade Differences
This page/section is outdated due to an update by Supercell.

You can help the Boom Beach Wiki by updating it.
---
Reason: New unique looks for all levels (except 14, which shares with 13)
Initially, the Boom Cannon is a gray structure with a stone base surrounded by sandbags. It has brown plating, handwheels on both the side and the back, as well as a long barrel.
At level 2, the Boom Cannon's barrel turns slightly darker, but this is hard to notice. The brown highlights also turn darker, but this is easier to see.
At level 6, the Boom Cannon gains a thicker barrel and slightly darker colored plating and barrel. The sandbags around the base are removed. The barrel receives an orange band around it. The shield increases in size. The side handwheels are removed and two green lights are added
At level 10, the Boom Cannon gains a metal base, an even thicker barrel, tubes at the back, and darker colored plating. The general color scheme turns to a reddish-brown. The back handwheel disappears.
At level 11, the Boom Cannon gains a heavily armored base. Red metal plates are seen on it.
At level 15, the Boom Cannon's barrel is much larger, and it gains steel ventilation on top of it, as well as a few layers of red metal plates between the steel ventilation plates and the barrel. A wire can be seen connecting the barrel to the back of the Boom Cannon, as well as a fiery glow within the barrel itself.
At level 16, more tubes appear at the back. A small green light appears in the back.
Trivia
When it fires, the Boom Cannon's barrel seems to retract in a similar manner to the Cannon. However, the handwheel does not.
The Boom Cannon's shell appears to create an impact crater similar to that of Artillery. Despite this, no splash damage is dealt.
While under the effects of the best Defensive Building Damage Masterpiece, 9 Guardians boosted with Power Powder, and three Mark III Damage Amplifiers, a Level 16 Boom Cannon will deal 36,009.6 Damage per shot.
Statistics
| Headquarters Level | 1 | 2 | 3 | 4 | 5 | 6 | 7 | 8 | 9 | 10 | 11 | 12 | 13 | 14 | 15 | 16 | 17 | 18 | 19 | 20 | 21 | 22 |
| --- | --- | --- | --- | --- | --- | --- | --- | --- | --- | --- | --- | --- | --- | --- | --- | --- | --- | --- | --- | --- | --- | --- |
| Number Available | 0 | 0 | 0 | 0 | 0 | 0 | 0 | 0 | 0 | 0 | 0 | 1 | 1 | 2 | 2 | 2 | 3 | 3 | 3 | 4 | 5 | 5 |
| Building Size | Range | Attack Speed | Damage Type |
| --- | --- | --- | --- |
| 3x3 | 14 | 4 Seconds | Single |
Input total Statue bonuses to modify the statistics in the table below accordingly
Building Health

+

%

Defensive Building Damage

+

%
Level

Health

Damage Per Second

Damage Per Shot

Upgrade Cost
Upgrade Time

Instant

Headquarters Level Required

XP Gain

Wood

Stone

Iron

1
3,500
290
1,160
121,000
57,000
14,900
5h
409
12
24
2
3,850
319
1,276
141,000
66,000
17,300
6h
456
12
26
3
4,200
351
1,404
198,000
119,000
34,000
7h
609
13
28
4
4,700
386
1,544
255,000
153,000
44,000
8h
708
13
31
5
5,100
425
1,700
350,000
308,000
85,000
10h
975
14
40
6
5,600
467
1,868
610,000
460,000
168,000
12h
1,353
15
44
7
6,200
514
2,056
850,000
760,000
330,000
14h
1,818
16
50
8
6,800
565
2,260
950,000
850,000
370,000
16h
1,976
16
54
9
7,500
622
2,488
1,350,000
1,110,000
700,000
18h
2,555
17
58
10
8,300
684
2,736
1,650,000
1,500,000
990,000
20h
3,083
18
60
11
9,100
752
3,008
1,810,000
1,650,000
1,080,000
22h
3,296
18
61
12
10,000
827
3,308
2,040,000
1,980,000
1,560,000
1d
3,816
19
63
13
11,000
910
3,640
2,260,000
2,270,000
2,260,000
1d 6h
4,410
20
67
14
12,100
1,000
4,000
2,470,000
2,470,000
2,460,000
1d 12h
4,724
20
70
15
13,300
1,100
4,400
3,200,000
3,460,000
2,940,000
1d 14h
5,662
21
72
16
14,630
1,210
4,840
3,900,000
4,210,000
3,590,000
1d 16h
6,498
22
74