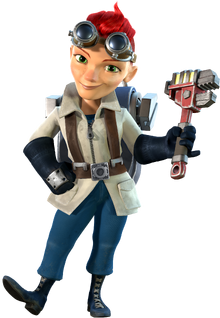 "Some people just love gadgets. Cpt. Everspark takes after her mom, who has had a long career in weapons development."
Summary
Cpt. Everspark is a Hero who supports your troops in battle using her abilities.
To unlock her, the player must free her by defeating Colonel Gearheart's level 45 War Factory.
To unlock the territory containing the War Factory, you need a Level 15 Radar - Please note: before you are able to unlock this territory, you first need to unlock a total of 93 other territories.
As a Hero, she does not require time or Gold to train. If she is defeated in battle, she will reappear in the Hero Hut after the battle, fully healed and ready to fight again.
In battle she is a ranged attacker who uses a long-ranged electric zap to damage enemies.
Her Hero Perk is Robot Overlord, which causes her to spawn groups of critters every few seconds.
During a battle, she spawns 3 critters every few seconds. Once there are 12 on the map, she stops spawning further critters until at least one of them are destroyed. She resumes spawning Critters once the number of Critters fall below 12; in the cases when there are 10 or 11 Critters spawned, she will spawn enough to make 12 once again. Critters fired from the Gunboat or produced from Critter Swarm do not count towards this total.
Hero Abilities
Similar to Gunboat Weaponry, Hero Abilities can be used during battle at the cost of Gunboat energy. Your hero can only have one ability active in a battle. The ability can be fired more than once, but the energy cost increases each time. The following are the three abilities available to Cpt. Everspark. Click one to read more about it.
Offensive Strategy
The critters that the hero spawns can be useful for distracting single-target defenses like Boom Cannons as long as there are no splash defenses like Flamethrowers nearby.
As she has a longer range than Sgt. Brick, she is more compatible for Tank-based armies. Unlike Brick, she can comfortably stay behind Tanks which means she is less vulnerable to enemy fire.
Upgrade Differences
Each upgrade increases Cpt. Everspark's hitpoints by 6%, damage per second by 6%, and makes the Critter spawn rate faster by 0.1 seconds.
Trivia
It is implied that Colonel Gearheart is Everspark's mother. In her description, we learn that Everspark's mother is a weapons developer, and Gearheart is known for developing and manufacturing weapons. Everspark is recruited after the player defeats Gearheart's war factory, and Everspark sports a gear on her belt just like Colonel Gearheart.
Statistics
| Movement Speed | Attack Range | Attack Speed | Headquarters Level Required | Hero Perk | Critters Spawned | Maximum Critters |
| --- | --- | --- | --- | --- | --- | --- |
| Moderate / 270 | Long / 10.5 Tiles | 0.8s (1.0s between shots at the same target) | 15 | Robot Overlord | 3 | 12 |
| Level | Hitpoints | DPS | Damage per Shot | Critter Spawn Rate | Upgrade Cost | Upgrade Time | Instant | Headquarters Level Required |
| --- | --- | --- | --- | --- | --- | --- | --- | --- |
| 1 | 1,500 | 360 | 288 | 5.5s | N/A | N/A | N/A | 15 |
| 2 | 1,590 | 382 | 305.6 | 5.4s | 903,000 | 1d 3h | 649 | 15 |
| 3 | 1,690 | 404 | 323.2 | 5.3s | 1,124,000 | 1d 3h | 710 | 16 |
| 4 | 1,790 | 429 | 343.2 | 5.2s | 1,637,000 | 1d 3h | 836 | 16 |
| 5 | 1,890 | 454 | 363.2 | 5.1s | 2,140,000 | 1d 7h | 985 | 17 |
| 6 | 2,010 | 482 | 385.6 | 5.0s | 2,996,000 | 1d 10h | 1,193 | 17 |
| 7 | 2,130 | 511 | 408.8 | 4.9s | 3,680,000 | 1d 10h | 1,330 | 18 |
| 8 | 2,260 | 541 | 432.8 | 4.8s | 4,066,000 | 1d 10h | 1,406 | 18 |
| 9 | 2,390 | 574 | 459.2 | 4.7s | 4,880,000 | 1d 13h | 1,580 | 19 |
| 10 | 2,530 | 608 | 486.4 | 4.6s | 5,486,000 | 1d 15h | 1,704 | 19 |
| 11 | 2,690 | 645 | 516 | 4.5s | 5,920,000 | 1d 15h | 1,781 | 20 |
| 12 | 2,850 | 683 | 546.4 | 4.4s | 6,380,000 | 1d 17h | 1,873 | 21 |
| 13 | 3,020 | 724 | 579.2 | 4.3s | 6,840,000 | 1d 17h | 1,949 | 22 |
| 14 | 3,190 | 767 | 613.6 | 4.2s | 7,620,000 | 1d 19h | 2,097 | 23 |
| 15 | 3,370 | 812 | 649.6 | 4.1s | 8,400,000 | 1d 21h | 2,234 | 24 |
| 16 | 3,550 | 859 | 687.2 | 4.0s | 9,180,000 | 1d 23h | 2,371 | 25 |
Max Hero Ability Level by Hero Level
Warships