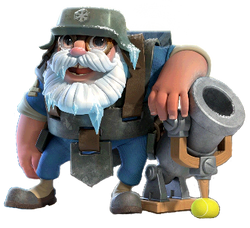 "These Bombardiers throw ice bombs against enemy buildings, slowing them down and dealing moderate damage. They require extra energy to deploy as they are slightly older (but more experienced) than most troops."
Summary
The Cryobombardier is a Prototroop that throws ice bombs at enemy buildings from a very long range. Buildings hit by the bomb are slowed down.
The Cryobombardier is unlocked for players who have an Armory level of 13 or above and starts 1 level below the Armory level. It can be upgraded using Proto Tokens gained from events.
A Cryobombardier costs 1 Gunboat Energy to deploy.
A Cryobombardier looks similar to the Bombardier Except the Cryobombardier has small ice flakes on his beard
Visual Appearances
The Cryobombardier appears similar to a Bombardier, except having icicles on his beard and snow on his helmet and body. His helmet also sports a snowflake symbol on it.
Offensive Strategy
Defensive Strategy
Placing non-defensive buildings can distract Cryobombardiers from targeting and slowing down defensive buildings.
Several Prototype Defenses can work well against the Bombardier:
Statistics
| Unit Size | Training Time | Movement Speed | Attack Speed | Attack Range | Headquarters Level Required |
| --- | --- | --- | --- | --- | --- |
| 8 | 15m | Medium / 200 | 2.2s | Very long / 12 Tiles | 14 |
| Level | Hitpoints | DPS | Damage per Shot | Training Cost | Upgrade Cost in Proto Tokens |
| --- | --- | --- | --- | --- | --- |
| 12 | 410 | 650 | 1,430 | 18,000 | N/A |
| 13 | 420 | 700 | 1,540 | 20,000 | 250 |
| 14 | 430 | 750 | 1,650 | 22,000 | 350 |
| 15 | 440 | 800 | 1,760 | 24,000 | 450 |
| 16 | 450 | 850 | 1,870 | 26,000 | 550 |
| 17 | 460 | 900 | 1,980 | 28,000 | 650 |
| 18 | 470 | 950 | 2,090 | 30,000 | 750 |
| 19 | 480 | 1,000 | 2,200 | 32,000 | 850 |
| 20 | 490 | 1,050 | 2,310 | 34,000 | 950 |
| 21 | 500 | 1,100 | 2,420 | 36,000 | 1,050 |
| 22 | 510 | 1,150 | 2,530 | 38,000 | 1,150 |
| 23 | 520 | 1,200 | 2,640 | 40,000 | 1,250 |
| 24 | 530 | 1,250 | 2,750 | 42,000 | 1,350 |
Warships
Rank

Level

Reserves Size

Upgrade Tokens

Tech Level

1
14
28
N/A
5
2
16
34
135,500
10
3
18
40
164,000
15
4
20
46
198,500
20
5
22
52
270,000
25
Total
768,000
75