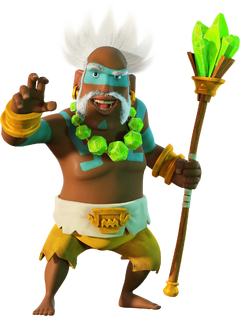 "Years in the jungle have had a pronounced effect on Dr. Kavan. He now uses natural oils to groom his moustache."
Summary
Dr. Kavan is a Hero who supports your troops in battle using his abilities.
To unlock him, you must beat Hammerman's HQ level 25.
As a healing Hero, he functions similar to Medics by healing your troops, whist lacking a defense of his own.
As a Hero, he does not require time or Gold to train. If he is defeated in battle, he will reappear in the Hero Hut after the battle, fully healed and ready to fight again.
His Hero Perk is Galvanizing Presence, which reduces incoming damage of troops he heals for a short period of time.
Hero Abilities
Similar to Gunboat Weaponry, Hero Abilities can be used during battle at the cost of Gunboat energy. Your hero can only have one ability active in a battle. The ability can be fired more than once, but the energy cost increases each time. The following are the three abilities available to Dr. Kavan. Click one to read more about it.
Offensive Strategy
As a support type hero, Dr. Kavan is arguably the most versatile. He is essentially a stronger Medic, and works well in strategies that already include them.
Unlike Sgt. Brick, Cpt. Everspark and Pvt. Bullit, Dr. Kavan's Hero Abilities can be used while inside a Smoke Screen. This can come in handy when Smoke Screens are in use.
Upgrade Differences
Most upgrades increase Dr. Kavan's hitpoints by 6%, heal per second by 4%, and damage reduction percentage point by 0.3%. The level 19 stats increase considerably from level 18.
Statistics
| Movement Speed | Heal Range | Heal Speed | Headquarters Level Required | Hero Perk | Perk Duration |
| --- | --- | --- | --- | --- | --- |
| Moderate / 270 | Short / 3-6 Tiles | 0.6 sec | 7 | Galvanizing Presence | 6 sec |
| Level | Hitpoints | Heal per Second | Damage Reduction | Upgrade Cost | Upgrade Time | Instant | Headquarters Level Required |
| --- | --- | --- | --- | --- | --- | --- | --- |
| 1 | 800 | 36 | 5% | N/A | N/A | N/A | 7 |
| 2 | 850 | 37 | 5.3% | 360,000 | 15h | 377 | 7 |
| 3 | 900 | 39 | 5.6% | 360,000 | 15h | 377 | 8 |
| 4 | 950 | 40 | 5.9% | 535,500 | 17h | 451 | 9 |
| 5 | 1,010 | 42 | 6.2% | 759,600 | 19h | 538 | 10 |
| 6 | 1,070 | 44 | 6.5% | 759,600 | 19h | 538 | 11 |
| 7 | 1,130 | 46 | 6.8% | 945,000 | 21h | 610 | 12 |
| 8 | 1,200 | 47 | 7.1% | 1,377,000 | 23h | 740 | 13 |
| 9 | 1,280 | 49 | 7.4% | 1,800,000 | 1d 2h | 868 | 14 |
| 10 | 1,350 | 51 | 7.7% | 1,800,000 | 1d 2h | 868 | 15 |
| 11 | 1,430 | 53 | 8% | 2,520,000 | 1d 5h | 1,051 | 16 |
| 12 | 1,520 | 55 | 8.3% | 3,420,000 | 1d 8h | 1,263 | 16 |
| 13 | 1,610 | 58 | 8.6% | 3,420,000 | 1d 8h | 1,263 | 17 |
| 14 | 1,710 | 60 | 8.9% | 4,230,000 | 1d 11h | 1,445 | 18 |
| 15 | 1,810 | 62 | 9.2% | 4,815,000 | 1d 12h | 1,559 | 19 |
| 16 | 1,920 | 65 | 9.5% | 4,815,000 | 1d 12h | 1,559 | 20 |
| 17 | 2,030 | 67 | 9.8% | 5,751,000 | 1d 15h | 1,750 | 21 |
| 18 | 2,150 | 70 | 10% | 6,408,000 | 1d 16h | 1,869 | 22 |
| 19 | 2,610 | 85 | 12% | 6,858,000 | 1d 17h | 1,953 | 22 |
| 20 | 2,970 | 90 | 13% | 8,328,000 | 1d 19h | 2,209 | 25 |
Max Hero Ability Level by Hero Level
Ability
Dr. Kavan Level
1
2
3
4
5
6
7
8
9
10
11
12
13
14
15
16
17
18
19
20
Crystal Critters
1
1
1
2
2
2
3
3
4
4
5
5
5
5
5
5
5
6
6
6
Ice Shields
-
1
1
1
2
2
2
3
3
3
3
4
4
4
4
5
5
5
6
6
Second Wind
-
-
1
1
1
2
2
2
3
3
3
3
4
4
4
4
6
6
6
6
Warships
Rank

Level

Crystal Critters Level
Ice Shields Level
Second Wind Level
Upgrade Tokens

Tech Level

1
6
2
2
2
N/A
5
2
10
4
3
3
95,500
10
3
14
5
4
4
139,500
15
4
17
5
5
6
186,000
20
5
19
6
6
6
225,000
25
Total
646,000
75