| | | |
| --- | --- | --- |
| | This page/section is missing significant amounts of content. You can help the Boom Beach Wiki by adding to it. | |
---
Reason: Needs strategy tips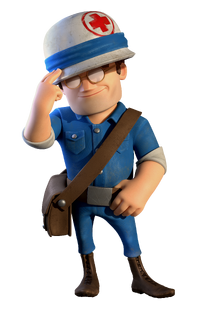 "Take your vitamins! Dr. Vitamin throws vitamins at other troops to boost one or many of their abilities for a short period of time."
Summary
Dr.Vitamin is a prototype troop only avaliable via events or on Warships.
He throws vitamins which heals all other allied units and temporarily apply the Speed Serum's buff to them. They will not intentionally target other Dr. Vitamins.
Dr. Vitamin is unlocked for players who have an Armory level of 13 or above and starts 1 level below the Armory level. It can be upgraded using Proto Tokens gained from events.
offensive Strategy
Dr. Vitamin is similar to a Medic. Keep him in the back to support your push.

It is not recommended to use Scorcher with him since Scorchers often just wanter too deep into the fray, thus causing Dr. Vitamin to also follow into range of other defenses.
While using high health troops, you may want to inflict some damage (shock mines/mines) so that Dr. Vitamin can heal them and buff their attack and movement speed (?).
Upgrade Differences
There are no visual changes between levels, but each upgrade increases Dr. Vitamin's hitpoints (by 8.8%), HPS (Healing per Second) (by 1), and training cost (by 1,000).
Trivia
Dr. Vitamin shares the same amount of hit points with the Medic and Engineer.

For some reason, Dr. Vitamin is able to affect Mechanical units such as the Tank.

The vitamins thrown at troops appear as blue and red colored pills.
Statistics
| Unit Size | Training Time | Movement Speed | Range | Heal Speed | Heal Type | Vitamin Duration | Headquarters Level Required |
| --- | --- | --- | --- | --- | --- | --- | --- |
| 5 | 10m | Moderate / ? | Short / ? | ? | Splash | ? | 14 |
| Level | Hitpoints | Heal per Second | Training Cost | Upgrade Cost in Proto Tokens |
| --- | --- | --- | --- | --- |
| 12 | 592 | 20 | 12,000 | N/A |
| 13 | 644 | 21 | 13,000 | 250 |
| 14 | 701 | 22 | 14,000 | 350 |
| 15 | 762 | 23 | 15,000 | 450 |
| 16 | 829 | 24 | 16,000 | 550 |
| 17 | 902 | 25 | 17,000 | 650 |
| 18 | 982 | 26 | 18,000 | 750 |
| 19 | 1,068 | 27 | 19,000 | 850 |
| 20 | 1,162 | 28 | 20,000 | 950 |
| 21 | 1,264 | 29 | 21,000 | 1,050 |
| 22 | 1,376 | 30 | 22,000 | 1,150 |
| 23 | 1,498 | 31 | 23,000 | 1,250 |
| 24 | 1,630 | 32 | 24,000 | 1,350 |