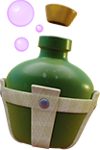 "Speeds up the hero's attack and movement while also granting him supernatural health regeneration."
Summary
Energy Drink is an ability that can be used by Pvt. Bullit.
When used, Pvt. Bullit's movement and attack speed are greatly increased for a short duration. In addition to this, the drink allows him to regenerate a part of his maximum health over time.
Each use costs 8 more Energy than the previous one, with a starting cost of 8 Energy.
Offensive Strategy
Use this ability when near many high hitpoint buildings, such as the Headquarters to quickly devastate the area.
It should also be used when he has lost some of his health or else the health regain is wasted.
Statistics
Duration


4.0s
| Level | Speed Bonus | Regeneration | Upgrade Cost | Upgrade Time | Instant (Time Only) | Hero Level Required |
| --- | --- | --- | --- | --- | --- | --- |
| 1 | 150% | 20% | N/A | N/A | N/A | 2 |
| 2 | 175% | 23% | 8 | 8h | 119 | 3 |
| 3 | 200% | 27% | 16 | 16h | 202 | 4 |
| 4 | 225% | 30% | 32 | 1d 8h | 339 | 6 |
| 5 | 250% | 35% | 64 | 2d 16h | 572 | 7 |
| 6 | 275% | 42% | 128 | 5d 8h | 964 | 8 |
| Number of Shots | Energy Cost | Cumulative Energy Cost |
| --- | --- | --- |
| 1 | 8 | 8 |
| 2 | 16 | 24 |
| 3 | 24 | 48 |
| 4 | 32 | 80 |
| 5 | 40 | 120 |