Jurassic World: Dominion Dominates Fandom Wikis - The Loop
Play Sound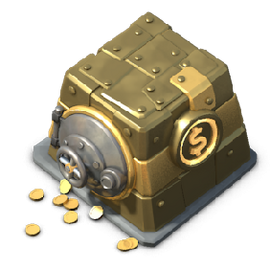 "Gold Storage increases your Gold storage capacity."
---
| | | |
| --- | --- | --- |
| | | |
| Level 1 | Level 2-3 | Level 4-5 |
| | | |
| --- | --- | --- |
| | | |
| Level 6-7 | Level 8-9 | Level 10-13 |
---
Summary
Upgrade Differences
Initially, the Gold Storage is a wooden box with a wooden padlock on the front, and gold coins are spilling out of it. The box is resting on three wooden planks and the side has a sign with a yellow dollar symbol on it.
At level 2, the Gold Storage gains wooden supports, reinforced corners, and an extra piece of timber underneath. There are more coins spilling out of the front.
At level 4, the reinforced corners turn gray, and even more coins are spilling out.
At level 6, the Gold Storage becomes a metal box with stone edges, with even more coins spilling out. The padlock's chain gains a color similar to the metal parts of the building.
At level 8, the sides are a patchy gold-colored metal, and the front and back edges are reinforced with more stone. The base is also made completely out of stone, and the padlock turns golden.
At level 10, the Gold Storage is made completely out of golden-colored metal with a stone base. It changes to resemble a more vault-like structure with a circular door.
Trivia
You do not need to have the necessary level of Gold Storage for upgrades if you buy Gold with Diamonds, or obtain excess Gold through the Trader.
The Gold Storage is the only storage which does not change appearance as it gradually fills up. The Wood Storage visually fills up with planks; the Stone Storage visually fills up with stones; and the Iron Storage fills up with iron ingots.
There's an achievement which is called War Chest that gives a total of 60 diamonds upon upgrading one Gold Storage to level 10.
The storage capacity for any resource storage building is increased at an increasing rate on each upgrade, with the only exception being levels 12 and 13, which only increases the capacity by 500,000 compared to the previous upgrades offering an increase by 1,000,000.
Statistics
| HQ Level | 1 | 2 | 3 | 4 | 5 | 6 | 7 | 8 | 9 | 10 | 11 | 12 | 13 | 14 | 15 | 16 | 17 | 18 | 19 | 20 | 21 | 22 | 23 | 24 | 25 |
| --- | --- | --- | --- | --- | --- | --- | --- | --- | --- | --- | --- | --- | --- | --- | --- | --- | --- | --- | --- | --- | --- | --- | --- | --- | --- |
| Number Available | 1 | 1 | 1 | 1 | 1 | 1 | 2 | 2 | 2 | 2 | 2 | 3 | 3 | 3 | 3 | 3 | 4 | 4 | 4 | 4 | 4 | 4 | 4 | 4 | 4 |
Building Size
3x3
Level

Health

Capacity

Upgrade Cost
Upgrade Time

Instant

Headquarters Level Required

XP Gain

Wood

Stone

Iron

1
1,000
4,000
130
N/A
N/A
2m
2
1
1
2
1,200
8,000
500
N/A
N/A
25m
15
2
6
3
1,400
16,000
4,100
N/A
N/A
2h
57
3
14
4
1,700
32,000
10,400
N/A
N/A
3h
85
4
17
5
2,000
64,000
20,000
N/A
N/A
4h
119
5
20
6
2,400
125,000
26,400
4,600
N/A
5h
160
6
20
7
2,900
250,000
65,000
14,200
N/A
6h
251
8
26
8
3,500
500,000
158,000
40,000
12,800
8h
450
10
34
9
4,200
1,000,000
450,000
273,000
78,000
12h
1,030
13
44
10
5,000
2,000,000
1,080,000
820,000
298,000
18h
1,995
15
61
11
5,900
3,000,000
2,400,000
2,300,000
890,000
1d
3,772
23
73
12
6,900
3,500,000
3,560,000
3,440,000
1,340,000
1d 6h
5,009
24
84
13
8,000
4,000,000
5,350,000
5,160,000
2,010,000
1d 12h
6,693
25
95