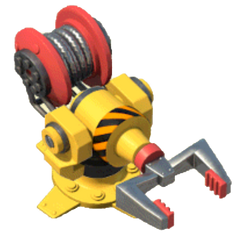 "Shoots a long range grappling hook that pulls a single enemy unit close."
---
---
Summary
The Grappler is a Prototype Defense that is built in the Weapon Lab.
Like all Prototype Defenses, it will only last 7 days after it is placed on your base.
Every few seconds, the Grappler will grab the troop that is closest to it, and pulls the troop close, dealing minor damage in the process.
Offensive Strategy
Critters will distract the Grappler, so you can use it to avoid large units from being grabbed.
Defensive Strategy
The Grappler should be placed in the middle of a bunch of other defenses. As its use is best when grabbing a large unit such as a Tank, place it in range of multiple Cannons or Boom Cannons to eliminate them quickly.
You can also place it in the middle of a group of Flamethrowers to wipe out other units such as Riflemen or Grenadiers quickly.
The troops that it drags every so often can serve as a distraction to the other defenses, so placement of the Grappler has to be carefully considered.
Version Differences
At Mark I, the Grappler consists of a yellow machine with a simple metal pulley in the back and a metal claw with two prongs in the front.
At Mark II, the pulley is wider with red outlines. The claw gains a third prong.
At Mark III, the pulley is made larger. The three-pronged claw in Mark II is replaced by a wide metal claw with red pads. The base of the machine is now made yellow instead of gray, and is reinforced with outriggers.
Statistics
| Building Size | Range | Damage Type | Special Ability |
| --- | --- | --- | --- |
| 3x3 | 8-25 | Single | Grabs an enemy unit and drags it next to the Grappler |
Input total Statue bonuses to modify the statistics in the table below accordingly
Building Health

+

%

Defensive Building Damage

+

%
Mark Number

Health

Damage Per Second

Damage Per Shot

Attack Speed

Build Cost
Build Time

Weapon Lab
level Required
Fuses

Gears

Rods

Capacitors

1
20,000
25
125
5s
3
0
3
0
1h
1
2
25,000
25
100
4s
3
3
3
3
4h
3
3
30,000
25
75
3s
3
3
3
9
12h
4
Community content is available under
CC-BY-SA
unless otherwise noted.