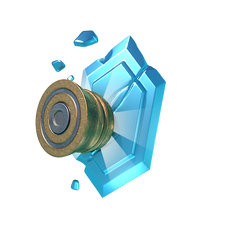 "Gives troops around the hero temporary shields that absorb damage until destroyed. Excess damage from the hit that destroys the shield is negated."
Summary
Ice Shields is a Hero Ability that Dr. Kavan can use during attacks.
When used, Dr. Kavan creates ice shields on every nearby troop, as well as Critters and himself. These shields have low hitpoints but negate excess damage.
The health of the shields deplete over time.
The ability's cost starts at 6 energy, which increases by 8 for every subsequent use.
Offensive Strategy
Statistics
Area of Effect Radius


10 Tiles
| Level | Shield Duration | Shield Hitpoints | Upgrade Cost | Upgrade Time | Instant (Time Only) | Hero Level Required |
| --- | --- | --- | --- | --- | --- | --- |
| 1 | 8.0s | 140 | N/A | N/A | N/A | 2 |
| 2 | 8.5s | 220 | 8 | 8h | 119 | 5 |
| 3 | 9.0s | 300 | 16 | 16h | 202 | 8 |
| 4 | 9.5s | 380 | 32 | 1d 8h | 339 | 12 |
| 5 | 10.0s | 460 | 64 | 2d 16h | 572 | 16 |
| 6 | 11.0s | 600 | 128 | 5d 8h | 964 | 19 |
| Number of Shots | Energy Cost | Cumulative Energy Cost |
| --- | --- | --- |
| 1 | 6 | 6 |
| 2 | 14 | 20 |
| 3 | 22 | 42 |
| 4 | 30 | 72 |
| 5 | 38 | 110 |