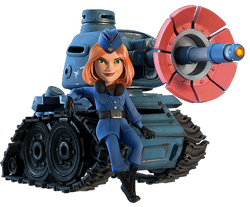 "Breakthrough in the battery tech has allowed Blackguard to mount Lazor Beams on tanks. It will burn its way through enemy defenses with pinpoint precision."
Summary
Offensive Strategy
Defensive Strategy
Longer range defenses such as the Boom Cannon, Shock Launcher, and most Prototype Defenses are able to attack Lazortrons.  Protecting them is therefore a good idea.
Visual Appearance
The Lazortron appears similar to a Tank, except having a red projection dish in place of a cannon, as well as having a yellow power box behind it. In battle, it appears as blue with a white hatch, similar to the regular Tank.
Statistics
| Unit Size | Training Time | Movement Speed | Attack Range | Attack Speed |
| --- | --- | --- | --- | --- |
| 14 | 24m | Slow / 180 | Very Long / 12.5 Tiles | 0.064s between hits in beam; 1.2s between lasers of 25 hits |
Input total Statue bonuses to modify the statistics in the table below accordingly
Troop Health

+

%

Troop Damage

+

%
| Level | Hitpoints | DPS | Damage per Hit | Training Cost | Armory |
| --- | --- | --- | --- | --- | --- |
| 1 | 1,700 | 877 (?) | 96 (?) | 40,000 | 14 |
| 2 | 2,000 | 1,052 | 115.2 | 50,000 | 16 |
| 3 | 2,200 | 1,286 (?) | 140.8 (?) | 60,000 | 18 |
| 4 | 2,300 | 1,578 (?) | 172.8 (?) | 75,000 | 20 |
| 5 | 2,350 | 1,754 | 192 | 97,500 | 22 |