Jurassic World: Dominion Dominates Fandom Wikis - The Loop
Play Sound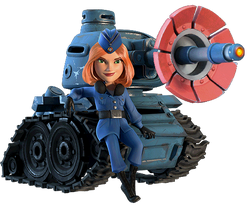 "Breakthrough in the battery tech has allowed Blackguard to mount Lazor Beams on tanks. It will burn its way through enemy defenses with pinpoint precision."
Summary
Offensive Strategy
The Lazortron is similar to Grenadiers in terms of range. You can use it to outrange certain defenses such as the Cannon and Flamethrower. They can even outrange Sniper Towers, but just barely.
Combining Lazortrons with Medics is an effective strategy. Medics can offset the damage that Lazortrons receive from defenses like Rocket Launchers and from Mines, preventing them from being killed prematurely, as they are slow and could possibly run out of time.
Defensive Strategy
Longer range defenses such as the Boom Cannon, Shock Launcher, Rocket Launcher, and most Prototype Defenses are able to attack Lazortrons. Protecting them is therefore a good idea.
Boom Mines are very dangerous against Lazortrons. Carefully spread out your Boom Mines across your base to ensure that Lazortrons cannot easily maneuver around them.
Shock Mines may not deal a lot of damage but the stun can stall Lazortrons for a long time, possibly causing the attacker to lose the battle due to running out of time.
Protect your economy and support buildings as much as possible. Lazortron armies need the Gunboat Energy they receive from destroying them to power their Barrages and Artillery shells needed to destroy your Boom Cannons and Shock Launchers. Running out of Gunboat energy can quickly spoil the whole attack unless important defenses have already been destroyed.
Avoid placing buildings in columns as Lazortrons can hit the rear buidlings alongside the front ones. Space them out so that each Lazortron hits as few buildings with a single beam as possible, preventing them from getting addition Gunboat Energy.
Visual Appearance
The Lazortron appears similar to a Tank, except having a red projection dish in place of a cannon, as well as having a yellow power box behind it. In battle, it appears as blue with a white hatch, similar to the regular Tank.
Statistics
| Unit Size | Training Time | Movement Speed | Attack Range | Attack Speed |
| --- | --- | --- | --- | --- |
| 14 | 24m | Slow / 180 | Very Long / 12.5 Tiles | 0.064s between hits in beam; 1.2s between lasers of 25 hits |
| Level | Hitpoints | DPS | Damage per Hit | Training Cost | Armory |
| --- | --- | --- | --- | --- | --- |
| 1 | 1,700 | | | 40,000 | 14 |
| 2 | 2,000 | 1,052 | 115.2 | 50,000 | 16 |
| 3 | 2,200 | | | 60,000 | 18 |
| 4 | 2,300 | | | 75,000 | 20 |
| 5 | 2,350 | 1,754 | 192 | 97,500 | 22 |
Warships
Rank

Level

Reserves Size

Upgrade Tokens

Tech Level

1
12
28
N/A
5
2
14
34
86,500
10
3
16
40
115,500
15
4
18
46
169,000
20
5
22
52
240,000
25
Total
611,000
75