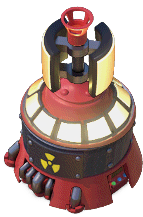 "Burns all enemies within range with dangerous microwave radiation. Can also be used to make popcorn."
---
---
Summary
The Microwav'r is a Prototype Defense that can be built inside the Weapon Lab.
Like other prototype defenses, they will only last for a limited duration after being deployed.
The Microwav'r emits microwave radiation, constantly harming all enemies within its range. However, the Microwav'r has a short range which limits its capability to damage long-ranged troops.
Offensive Strategy
Defensive Strategy
You can place Microwav'rs on one side of the base to deter enemy troops from passing through that side of your base, but this can be completely ineffective against long-ranged troop compositions.
Pairing the Microwav'r with a Sky Shield can be very potent. Its high health plus the shield health means that attackers would need a lot of Gunboat Energy to destroy it. The shield can also prevent attackers from using Shock Bombs on the Microwav'r if they do not choose to destroy the shield first.
It can be a good idea to place Microwav'rs near defenses that are likely to be distracted with Critters in an attack.  The Microwav'r will quickly destroy Critters, rendering them useless.
The Microwav'r can excel in Hammerman Strikes Back events just like the Hot Pot, as it is lethal against Riflemen. Its high health allows it to withstand many hits, but its weaknesses against Tanks and Grenadiers can be fatal when defending.
You can place the Microwav'r around the Headquarters to prevent Smokey Warrior attacks as they can hit under Smoke Screens. Such attackers would have to destroy it first, or upon reaching the Headquarters, use early Shock Bombs to prevent the Microwav'r from destroying all the Warriors.
Statistics
| Building Size | Attack Speed | Range | Special Ability |
| --- | --- | --- | --- |
| 3x3 | 0.2s | 7 Tiles | Damages all units within range at the same time |
Input total Statue bonuses to modify the statistics in the table below accordingly
Building Health

+

%

Defensive Building Damage

+

%
Mark Number

Health

Damage Per Second

Damage Per Hit

Build Cost
Build Time

Weapon Lab
level Required
Fuses

Gears

Rods

Capacitors

1
20,000
300
60
0
3
2
1
1h
2
2
25,000
500
100
3
3
6
0
4h
3
3
30,000
700
140
6
3
0
9
12h
4