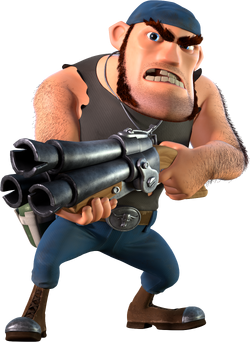 "It's not quite clear why Private Bullit has never been promoted, but it might have something to do with his attitude."
Summary
Pvt. Bullit is a Hero that supports your troops with his abilities.
To unlock him, you need to defeat Lt. Hammerman's level 55 HQ, which is unlocked at Level 19 Radar as well as 117 map regions revealed.
As a Hero, he does not require time or Gold to train. If he is defeated in battle, he will reappear in the Hero Hut after the battle, fully healed and ready to fight again.
In battle, he is a short-ranged troop with very high hitpoints and very high damage per second. He uses a three-barreled shotgun to attack enemy buildings.
His Hero Perk is Pain Tolerance, which allows him to limit the damage done to him to a certain maximum. Damage exceeding this limit will be ignored.
Pvt. Bullit's attack speed increases as he takes damage; the lower his health, the faster he attacks. When Pvt Bullit has at least 75% of his hitpoints, his attack speed is 1 second. However, when Pvt. Bullit's hitpoints are between 50% and 75% then his attack speed is about 0.825s, when Pvt. Bullit hitpoints are between 25% and 50%, his attack speed is about 0.75s, and when his hitpoints are between 0% and 25%, his attack speed is about 0.625s.
Hero Abilities
Similar to Gunboat Weaponry, Hero Abilities can be used during battle at the cost of Gunboat energy. Your hero can only have one ability active in a battle. The ability can be fired more than once, but the energy cost increases each time. The following are the three abilities available to Pvt. Bullit. Click one to read more about it.
Offensive Strategy
With his Pain Tolerance Hero Perk, he will be able to survive a lot of hits from defenses. You can use his Taunt ability to protect other troops such as Heavies, Tanks and Scorchers from high-damage defenses and even outright negate the Doom Cannon's attacks.
His main weakness comes from fast-firing defenses such as the Machine Gun and Shock Blaster. These defenses can do sufficiently high damage per second while doing damage per shot that is low enough such that his Hero Perk does not ignore it. Destroying these defenses or avoiding them entirely when using him will thus be beneficial.
Upgrade Differences
There are no visual differences, but each upgrade increases his hitpoints (by 8%), damage per second (by 10%), and reduces the damage limit on his Pain Tolerance (by 100).
Trivia
He has the highest hitpoints and damage per second of all Heroes.
'Private' is the lowest Military rank, and also the lowest known rank in the game.

Contary to the game's description, he has been promoted several times, though each time he celebrated by doing something that ended up demoting him.
If you look closely, Bullit already has an Energy Drink bottle attached to his belt, but oddly, he still needs Gunboat energy to use it and still has it even when using other abilities.
Bullit shares many similarities with Bull from Brawl Stars, another SuperCell game. Both are very tanky, both wield triple barreled shotguns, both are short ranged, both have bull themed belt buckles and both have the ability to increase their fire rate when low on health.
Statistics
| Movement Speed | Attack Range | Attack Speed | Headquarters Level Required | Hero Perk |
| --- | --- | --- | --- | --- |
| Moderate / 230 | Short / 3.3 Tiles | 1s | 19 | Pain Tolerance |
| Level | Hitpoints | DPS | Damage Limit | Upgrade Cost | Upgrade Time | Instant | Headquarters Level Required |
| --- | --- | --- | --- | --- | --- | --- | --- |
| 1 | 18,000 | 544 | 2,000 | N/A | N/A | N/A | 19 |
| 2 | 19,440 | 598 | 1,900 | 5,751,000 | 1d 15h | 1,750 | 19 |
| 3 | 21,000 | 658 | 1,800 | 5,751,000 | 1d 15h | 1,750 | 20 |
| 4 | 22,670 | 724 | 1,700 | 5,751,000 | 1d 15h | 1,750 | 20 |
| 5 | 24,490 | 797 | 1,600 | 6,408,000 | 1d 16h | 1,869 | 21 |
| 6 | 26,450 | 876 | 1,500 | 6,408,000 | 1d 16h | 1,869 | 21 |
| 7 | 28,560 | 964 | 1,400 | 6,408,000 | 1d 16h | 1,869 | 22 |
| 8 | 30,850 | 1,060 | 1,300 | 6,858,000 | 1d 17h | 1,953 | 22 |
| 9 | 33,350 | 1,164 | 1,200 | 7,344,000 | 1d 18h | 2,041 | 23 |
| 10 | 36,090 | 1,276 | 1,100 | 7,834,000 | 1d 19h | 2,129 | 24 |
| 11 | 39,100 | 1,396 | 1,000 | 8,324,000 | 1d 20h | 2,216 | 25 |
Max Hero Ability Level by Hero Level
Warships
Rank

Level

Taunt Level
Energy Drink Level
Shock Knuckles Level
Upgrade Tokens

Tech Level

1
2
1
1
-
N/A
5
2
4
3
3
2
225,500
10
3
6
5
4
3
272,500
15
4
7
6
5
4
600,000
20
5
8
6
6
5
1,330,000
25
Total
2,428,000
75