Jurassic World: Dominion Dominates Fandom Wikis - The Loop
Play Sound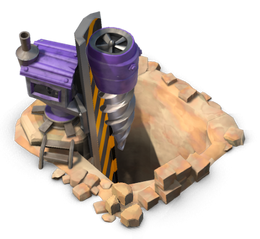 "The Quarry produces stone, a medium level construction material. Upgrade the Quarry to increase its production rate!"
---
| | | | | |
| --- | --- | --- | --- | --- |
| | | | | |
| Level 1 | Level 2 | Level 3 | Level 4 | Level 5-10 |
---
Summary
The Quarry constantly produces Stone, unless it is being upgraded or is full.
The capacity and production rate of a Quarry depends on its level.
Upgrade Differences
Initially, the Quarry consists of a machine made up of wheels with a metal box containing a wedge that picks down at a shallow hole in the ground.
At level 2, the machine gains a corrugated metal roof, above the wheels.
At level 3, the box changes color. The wedge it contains is now marked with hazard tape.
At level 4, the roof gains a small metal chimney, and the box containing the wedge changes once again, being marked at the bottom with hazard tape. The hole is now slightly deeper, and the wedge now strikes in the middle of two blocks of stone.
At level 5, the Quarry consists of a large drill on a chute. The hole is deep enough that the bottom cannot be seen.
Trivia
When your Stone Storage is full, the bubble you click to collect Stone turns red, indicating that you can't store the produced Stone within your Stone Storage.
The drill on levels 5-10 is likely held by electromagnets.
Statistics
| HQ Level | 1 | 2 | 3 | 4 | 5 | 6 | 7 | 8 | 9 | 10 | 11 | 12 | 13 | 14 | 15 | 16 | 17 | 18 | 19 | 20 | 21 | 22 | 23 | 24 | 25 |
| --- | --- | --- | --- | --- | --- | --- | --- | --- | --- | --- | --- | --- | --- | --- | --- | --- | --- | --- | --- | --- | --- | --- | --- | --- | --- |
| Number Available | 0 | 0 | 0 | 0 | 0 | 0 | 1 | 1 | 1 | 1 | 1 | 1 | 1 | 1 | 1 | 1 | 1 | 1 | 1 | 1 | 1 | 1 | 1 | 1 | 1 |
Building Size
5x5
Level

Hitpoints

Capacity

Stone Per Hour

Time Until Full

Upgrade Cost
Upgrade Time

Instant

Headquarters Level Required

XP Gain

Wood

Iron

1
1,500
500
120
4h 10m
9,800
N/A
1h 15m
58
7
11
2
1,800
1,450
210
6h 54m
20,300
N/A
3h 30m
113
8
18
3
2,200
3,500
360
9h 43m
31,500
2,000
5h
161
9
24
4
2,600
7,500
580
12h 56m
59,000
4,800
6h
222
10
26
5
3,100
14,700
900
16h 20m
80,000
8,400
7h
270
11
28
6
3,700
26,800
1,320
20h 30m
121,000
14,900
8h
338
12
28
7
4,400
45,000
1,800
1d 1h
170,000
29,100
10h
431
13
34
8
5,300
70,000
2,400
1d 5h
236,000
57,000
12h
546
14
37
9
6,300
100,000
3,000
1d 9h
570,000
223,000
14h
956
16
44
10
7,500
130,000
3,500
1d 13h
990,000
590,000
16h
1,470
18
52