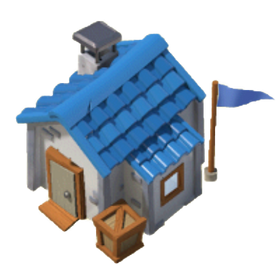 "Residences produce gold."
---
| | | | |
| --- | --- | --- | --- |
| | | | |
| Level 4 | Level 5 | Level 6 | Level 7-10 |
---
Summary
The Residence constantly produces Gold, except for when it is being upgraded or when it is full.
Gold is used for:
Upgrade Differences
Initially, the Residence is a simple wooden house on a platform. It has a blue roof and a single wooden step leading to the doorway. A window can be seen.
At level 2, the Residence gains a chimney and its platform's wood becomes more saturated in color.
At level 3, the Residence gains a couple of sandbags. The wood changes color slightly.
At level 4, the Residence gains an extra room on the side. The roof of that room expands so that the window cannot be seen.
At level 5, the Residence gains some subtle improvements such as an extended roof on the side room and a straighter front step. As well, wooden support beams underneath the platform are replaced with stone.
At level 6, the Residence gains a window, rearranged sandbags, stone walls, and a corrugated metal roof. A metal highlight is revealed by the sandbags.
At level 7, the Residence gains stone support, replacing the wooden platform, and the chimney is expanded and is made of metal and stone. The sandbags are rearranged once again.
Trivia
The Residence provides Gold because property owners pay taxes.
The Residence is the only Resource production building which you can have more than one of in your base.
The Residence is the only Resource production building which cannot be located on a Resource Base.
Smoke periodically floats out of the chimney of the Residence.
Villagers can enter and exit through the door of the Residence.
Statistics
| HQ Level | 1 | 2 | 3 | 4 | 5 | 6 | 7 | 8 | 9 | 10 | 11 | 12 | 13 | 14 | 15 | 16 | 17 | 18 | 19 | 20 | 21 | 22 | 23 |
| --- | --- | --- | --- | --- | --- | --- | --- | --- | --- | --- | --- | --- | --- | --- | --- | --- | --- | --- | --- | --- | --- | --- | --- |
| Number Available | 1 | 2 | 3 | 3 | 3 | 3 | 4 | 4 | 4 | 4 | 5 | 5 | 5 | 5 | 6 | 6 | 6 | 6 | 6 | 6 | 6 | 6 | 6 |
Building Size

3x3
Input total Statue bonuses to modify the statistics in the table below accordingly
Building Health+%
Production+%
Level

Hitpoints

Gold per Hour

Capacity

Time Until Full

Upgrade Cost
Upgrade Time

Instant

Headquarters Level Required

XP Gain

Wood

Stone

Iron

1
1,000
120
500
4h 10m
150
N/A
N/A
2m
3
1
1
2
1,200
210
1,450
6h 54m
350
N/A
N/A
5m
6
1
2
3
1,400
360
3,500
9h 43m
1,140
N/A
N/A
45m
26
2
8
4
1,700
590
7,500
12h 43m
3,800
N/A
N/A
1h 45m
52
3
13
5
2,000
900
14,700
16h 20m
7,800
N/A
N/A
2h 15m
70
4
15
6
2,400
1,300
26,800
20h 37m
19,800
3,500
N/A
3h 30m
125
6
18
7
2,900
1,800
45,000
1d 1h
57,000
13,500
3,600
4h
228
9
22
8
3,500
2,400
70,000
1d 5h
227,000
136,000
39,000
8h
667
13
31
9
4,200
3,000
100,000
1d 9h
760,000
680,000
298,000
12h
1,678
16
48
10
5,000
3,500
130,000
1d 13h
1,480,000
1,440,000
1,130,000
20h
3,065
19
54