Jurassic World: Dominion Dominates Fandom Wikis - The Loop
Play Sound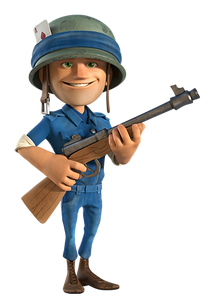 "Rifleman ready! Let's take the fight to the enemy!"
Summary
The Rifleman is the first troop available in the game, being unlocked as soon as the game begins.
Riflemen are decent troops with moderate HP, damage, and attack range.
They require the lowest amount of space in the Landing Craft of any troop, requiring only 1 space.
Visual Appearance
The Rifleman appears as a fair-skinned man with a blue uniform, simple boots, and a grayish-green helmet with a blue cloth band around it. He carries a rifle and has a red ace of diamonds tucked into his helmet band.
Offensive Strategy
The Rifleman is effective when deployed in large numbers.
The Rifleman is effective when used with Heavies acting as meat shields.

Using Heavies as meat shields will allow them to take most of the damage while the Riflemen behind them deal the damage as Heavies do not yield much damage themselves. Be warned that because Riflemen walk so close behind Heavies, they are very likely to be hit by splash damage defenses such as Rocket Launchers, Machine Guns, Mortars and Shock Launchers that target your Heavies, even though the Heavies are in front of them.

Another great strategy is Rifle-Medic. Riflemen have moderate health, so Medics will be able to heal up most of the damage that the Riflemen take from splash damage defenses. Medics' healing does have a splash effect, so they can heal Riflemen faster than any other unit (though high-level defenses can eventually overpower the healing).
A third popular strategy with riflemen is the Rifle-Zooka strategy (Full guide by TheCoolBoss). This strategy is very weak to splash defenses due to the high amount of troops and relatively low health per troop, but this is a devastating tactic when combined with high-level Medkits and/or Medics or when used against a base with low level or at least very few splash defenses. Using Smoke Screens can also help to flank the Riflemen and Zookas around defenses and to the Headquarters.
The Rifleman is great to use against Cannons and Boom Cannons as these defenses are single-shot defenses, making them easily overwhelmed by Riflemen hordes.
Riflemen are weak against Machine Guns, Mortars, Flamethrowers, Rocket Launchers and Shock Launchers as these defenses are area-damage, meaning that they excel at damaging groups of enemies.

At respectable levels, Riflemen may counter Machine Gun and Rocket Launcher fire with the help of a Gunboat-deployed Medkit. Alternatively, a well-timed Shock Bomb can allow the Riflemen to finish off these defenses.
You can allow Riflemen to spread out as much as possible to minimize the effect of these defenses. However, spreading out too much will expose them to fire from too many defenses!

Due to their large numbers and short range, Riflemen can be used to protect Tanks from Cannons and Boom Cannons.
Defensive Strategy
Upgrade Differences
There are no visual changes between levels, but each upgrade increases the Rifleman's hitpoints (by 7%), DPS (by 8.2%), and training cost.
Trivia
They appear as the snipers in Sniper Towers. However, their rate of fire is different.
You can have a maximum of 232 Riflemen in a complete set of fully upgraded Landing Crafts.
During the tutorial, the training time of 5 Riflemen is reduced to 5 seconds, and costs 0 Diamonds to complete.
Statistics
| Unit Size | Training Time | Movement Speed | Attack Range | Attack Speed | Headquarters Level Required |
| --- | --- | --- | --- | --- | --- |
| 1 | 1m | Moderate / 220 | Medium / 4.7 Tiles | 1s | 1 |
| Level | Hitpoints | DPS | Training Cost | Research Cost | Armory | Research Time | Instant | XP Gain |
| --- | --- | --- | --- | --- | --- | --- | --- | --- |
| 1 | 140 | 30 | 20 | N/A | N/A | N/A | N/A | N/A |
| 2 | 150 | 32 | 50 | 9,500 | 1 | 2h | 56 | 14 |
| 3 | 160 | 35 | 100 | 19,500 | 2 | 3h | 79 | 17 |
| 4 | 172 | 38 | 150 | 42,000 | 3 | 6h | 138 | 24 |
| 5 | 184 | 41 | 200 | 83,000 | 4 | 8h | 190 | 30 |
| 6 | 196 | 44 | 250 | 140,000 | 5 | 12h | 261 | 37 |
| 7 | 210 | 48 | 300 | 236,000 | 6 | 17h | 349 | 43 |
| 8 | 225 | 52 | 350 | 370,000 | 7 | 22h | 444 | 50 |
| 9 | 241 | 56 | 400 | 540,000 | 8 | 1d | 517 | 52 |
| 10 | 257 | 61 | 450 | 630,000 | 9 | 1d 1h | 552 | 52 |
| 11 | 275 | 66 | 500 | 710,000 | 10 | 1d 4h | 602 | 55 |
| 12 | 295 | 71 | 600 | 970,000 | 11 | 1d 9h | 716 | 61 |
| 13 | 315 | 77 | 700 | 1,320,000 | 12 | 1d 12h | 832 | 67 |
| 14 | 337 | 84 | 800 | 1,500,000 | 13 | 1d 15h | 901 | 67 |
| 15 | 361 | 90 | 900 | 1,800,000 | 14 | 2d | 1,038 | 74 |
| 16 | 386 | 98 | 1,000 | 2,480,000 | 15 | 2d 3h | 1,211 | 78 |
| 17 | 413 | 106 | 1,100 | 2,850,000 | 16 | 2d 5h | 1,304 | 78 |
| 18 | 442 | 115 | 1,200 | 3,200,000 | 17 | 2d 11h | 1,417 | 83 |
| 19 | 473 | 124 | 1,300 | 3,800,000 | 18 | 2d 13h | 1,549 | 84 |
| 20 | 506 | 134 | 1,400 | 4,400,000 | 19 | 2d 17h | 1,690 | 87 |
| 21 | 542 | 145 | 1,500 | 5,100,000 | 20 | 2d 19h | 1,832 | 89 |
| 22 | 580 | 157 | 1,600 | 5,500,000 | 21 | 2d 21h | 1,916 | 91 |
| 23 | 620 | 170 | 1,700 | 6,000,000 | 23 | 2d 23h | 2,017 | 93 |
| 24 | 662 | 184 | 1,800 | 6,500,000 | 24 | 3d 1h | 2,115 | 95 |
| 25 | 706 | 199 | 1,900 | 7,000,000 | 25 | 3d 3h | 2,212 | 97 |
Warships
Rank

Level

Reserves Size

Upgrade Tokens

Tech Level

1
8
224
N/A
5
2
12
272
58,000
10
3
16
320
84,500
15
4
18
368
112,500
20
5
22
416
165,000
25
Total
420,000
75