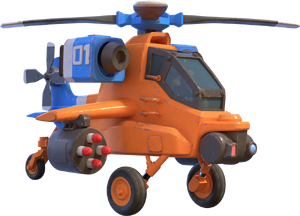 Summary
The Rocket Choppa is a flying troop usable only on Warships. They were added for Season 5 onwards.
The Rocket Choppa attacks from a long range, and is fairly fragile, similar to the Zooka. When shot down, Rocket Choppas will deal a small amount of damage in a small radius when it crashes onto the ground, and drop 2 Zookas in its place.
As a flying unit, only a limited selection of Defensive Buildings can attack the Rocket Choppa, as described in the table below. The Rocket Choppa is also able to fly over all types of Mines.
Each Rocket Choppa costs 4 Gunboat Energy to deploy.
Visual Appearances
Rocket Choppas are orange in color, with 2 Zooka in the cockpit. A large rotor is on top, and a missile pod is on each side. It has blue accents. It has two wings with missile holders underneath. It has 3 wheels underneath the body.
Offensive Strategy
Defensive Strategy
Statistics
| Unit Size | Training Time | Movement Speed | Attack Range | Attack Speed |
| --- | --- | --- | --- | --- |
| 14 | 16m 40s | | Long | .35 Seconds |
Input total Statue bonuses to modify the statistics in the table below accordingly
Troop Health+%
Troop Damage+%
| Level | Hitpoints | Damage per second | Damage per shot |
| --- | --- | --- | --- |
| 1 | 1450 | 1059 | 370.65 |
| 2 | 1550 | 1143 | 400.05 |
| 3 | 1675 | 1244 | 435.40 |
| 4 | 1800 | 1323 | 463.05 |
| 5 | 1950 | 1456 | 508.75 |