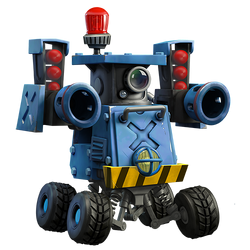 "The Seeker is programmed to attack the nearest Engine Room, ignoring everything else. It can't be healed so make sure the path is clear!"
Summary
Seekers are special troops usable only on Warships. They were added for Season 4 onwards.
Seekers target Engine Rooms above all other buildings on the Warship, always going for the nearest Engine Room whenever possible.
Visual Appearance
Offensive Strategy
Use Smoke Screen to create a safe path for the Seekers to get to the Engine Rooms. Once the Smoke Screen wears off you can shock defenses that may be a threat to them.
You can use Seekers as a cover to your army.
Dr. Kavan's Second Wind will revive Seekers if they are taken out by Defensive Buildings. It can be useful when the opponent's warship has only one remaining Engine Room.
Defensive Strategy
Trivia
Statistics
| Unit Size | Training Time | Movement Speed | Attack Range | Attack Speed |
| --- | --- | --- | --- | --- |
| 3 | 7m 30s | Moderate / 350 | Short / 5 Tiles | 0.5s |
Input total Statue bonuses to modify the statistics in the table below accordingly
Troop Health

+

%

Troop Damage

+

%
| Level | Hitpoints | Damage per second | Damage per shot |
| --- | --- | --- | --- |
| 1 | 1,300 | 215 | 107.5 |
| 2 | 1,600 | 255 | 127.5 |
| 3 | 2,000 | 300 | 150 |
| 4 | 2,600 | 357 | 178.5 |
| 5 | 3,200 | 420 | 210 |