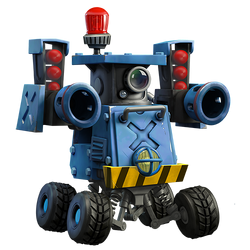 "The Seeker is programmed to attack the nearest Engine Room, ignoring everything else. It can't be healed so make sure the path is clear!"
Summary
Seekers are special troops usable only on Warships. They were added for Season 4 onwards.
Seekers target Engine Rooms above all other buildings on the Warship, always going for the nearest Engine Room whenever possible.
Visual Appearance
| | | |
| --- | --- | --- |
| | This page/section is missing significant amounts of content. You can help the Boom Beach Wiki by adding to it. | |
Mostly, Seekers look like a Critters. They have two powerful mini machine-guns and a headlight.
Offensive Strategy
Defensive Strategy
Place your Engine Rooms as far from to each other as it possible. Think about the path of Seekers and place your defenses in the way.
Flamethrowers and Machine Guns near Engine Rooms will help to take out Seekers quickly.
Place your Shock Launchers far from each other (not less than 6 tiles): an opponent will not be able to shock them by one bomb.
Statistics
| Unit Size | Training Time | Movement Speed | Attack Range | Attack Speed |
| --- | --- | --- | --- | --- |
| 3 | 7m 30s | Moderate / 350 | Short / 5 Tiles | 0.5s |
Input total Statue bonuses to modify the statistics in the table below accordingly
Troop Health+%
Troop Damage+%
| Level | Hitpoints | Damage per second | Damage per shot |
| --- | --- | --- | --- |
| 1 | 1,300 | 215 | 107.5 |
| 2 | 1,600 | 255 | 127.5 |
| 3 | 2,000 | 300 | 150 |
| 4 | 2,600 | 357 | 178.5 |
| 5 | 3,200 | 420 | 210 |