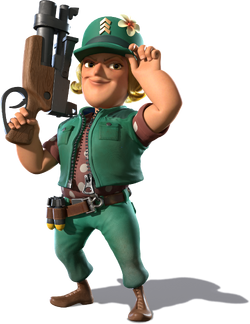 "After spending too long alone on the island, Sgt. Brick is ready to fight the Blackguard for real again."
Summary
Sgt. Brick is a Hero that aids you in battle with her abilities.
When you upgrade your Headquarters to level 4, you will have the ability to rebuild the Derelict Hut in the corner of your island. Doing so will unlock Sgt. Brick.
As a Hero, she does not require time or Gold to train. If she is defeated in battle, she will reappear in the Hero Hut after the battle, fully healed and ready to fight again.
In combat, she is a ranged attacker who fires rapid sprays of bullets from her rifle. She can fire 15 shots before having to reload.
Her Hero Perk is Grenade Spammer, which causes her to fire a grenade every time she shoots at a new target to deal heavy damage.
Hero Abilities
Similar to Gunboat Weaponry, Hero Abilities can be used during battle at the cost of Gunboat energy. Your hero can only have one ability active in a battle. The ability can be fired more than once, but the energy cost increases each time. The following are the three abilities available to Sgt. Brick. Click one to read more about it.
Offensive Strategy
As many of Sgt. Brick's abilities buff troops in a large area, she works best with armies that are composed of many troops, such as Heavy-Zooka. With a larger amount of troops, the overall effectiveness of her abilities is increased.
It is generally not a recommended idea to use her with Tanks. Her shorter range means that defenses are likely to fire on her first, reducing the amount of time she is active.
Upgrade Differences
Each upgrade increases Sgt. Brick's hitpoints by 8%, damage per second by 10% and Grenade damage by 8.2%; level 22 to 23's increments are slightly larger than these.
Trivia
Like with other Heroes, Sgt. Brick's death sound is not unique. In her case, she shares the same death sound with the Rifleman.
Statistics
| Movement Speed | Attack Range | Attack Speed | Headquarters Level Required | Hero Perk |
| --- | --- | --- | --- | --- |
| Moderate / 220 | Medium / 7.2 Tiles | 1.875 Between Salvos of 15; 0.075s Between Shots in Salvo | 4 | Grenade Spammer |
| Level | Hitpoints | DPS | Damage per Shot | Grenade Damage | Upgrade Cost | Upgrade Time | Instant | Headquarters Level Required |
| --- | --- | --- | --- | --- | --- | --- | --- | --- |
| 1 | 1,000 | 110 | 8.25 | 320 | N/A | N/A | N/A | 4 |
| 2 | 1,080 | 121 | 9.07 | 350 | 25,000 | 6h | 125 | 4 |
| 3 | 1,170 | 133 | 9.97 | 370 | 38,000 | 7h | 147 | 5 |
| 4 | 1,260 | 146 | 10.95 | 410 | 82,000 | 9h | 201 | 6 |
| 5 | 1,360 | 161 | 12.07 | 440 | 156,000 | 11h | 258 | 7 |
| 6 | 1,470 | 177 | 13.27 | 470 | 248,000 | 13h | 315 | 8 |
| 7 | 1,590 | 195 | 14.62 | 510 | 432,000 | 16h | 411 | 9 |
| 8 | 1,710 | 214 | 16.05 | 560 | 643,000 | 18h | 495 | 10 |
| 9 | 1,850 | 236 | 17.7 | 600 | 643,000 | 18h | 495 | 10 |
| 10 | 2,000 | 259 | 19.42 | 650 | 912,000 | 20h | 590 | 11 |
| 11 | 2,160 | 285 | 21.37 | 700 | 912,000 | 20h | 590 | 12 |
| 12 | 2,330 | 314 | 23.55 | 760 | 1,134,000 | 22h | 669 | 13 |
| 13 | 2,520 | 345 | 25.87 | 820 | 1,652,000 | 1d 1h | 823 | 14 |
| 14 | 2,720 | 380 | 28.5 | 890 | 2,160,000 | 1d 3h | 958 | 15 |
| 15 | 2,940 | 418 | 31.35 | 960 | 2,160,000 | 1d 3h | 958 | 16 |
| 16 | 3,170 | 459 | 34.42 | 1,040 | 2,160,000 | 1d 3h | 958 | 16 |
| 17 | 3,430 | 505 | 37.87 | 1,130 | 3,020,000 | 1d 7h | 1,173 | 17 |
| 18 | 3,700 | 556 | 41.7 | 1,220 | 4,100,000 | 1d 10h | 1,412 | 18 |
| 19 | 4,000 | 612 | 45.9 | 1,320 | 4,100,000 | 1d 10h | 1,412 | 19 |
| 20 | 4,320 | 673 | 50.47 | 1,430 | 5,080,000 | 1d 13h | 1,615 | 20 |
| 21 | 4,660 | 740 | 55.5 | 1,550 | 5,780,000 | 1d 15h | 1,757 | 21 |
| 22 | 5,030 | 814 | 61.05 | 1,670 | 6,900,000 | 1d 17h | 1,960 | 22 |
| 23 | 5,560 | 900 | 67.5 | 1,850 | 7,690,000 | 1d 19h | 2,107 | 22 |
| 24 | 6,090 | 982 | 73.65 | 2,010 | 8,500,000 | 1d 21h | 2,249 | 25 |
Max Hero Ability Level by Hero Level
Ability
Sgt. Brick Level
1
2
3
4
5
6
7
8
9
10
11
12
13
14
15
16
17
18
19
20
21
22
23
24
Cluster Grenade
1
1
1
2
2
2
2
3
3
3
3
4
4
4
4
5
5
5
5
5
5
6
6
6
Iron Will
-
1
1
2
2
2
2
2
3
3
3
3
4
4
4
4
5
5
6
6
6
6
6
6
Battle Orders
-
-
1
1
1
2
2
2
2
3
3
3
3
4
4
4
4
5
5
5
5
5
6
6
Warships
Rank

Level

Cluster Grenade Level
Iron Will Level
Battle Orders Level
Upgrade Tokens

Tech Level

1
10
3
3
3
N/A
5
2
14
4
4
4
114,500
10
3
17
5
5
4
152,500
15
4
20
5
6
5
203,000
20
5
23
6
6
6
270,000
25
Total
740,000
75