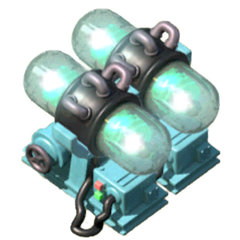 "Generates a force field around the Headquarters that shields it from damage. If the generator is destroyed, the shield dissipates."
---
---
Summary
Offensive Strategy
Defensive Strategy
The placement of the Generator is important; an undefended Shield Generator can be easily picked off by any troop, wasting the shield around the Headquarters. Protect it as much as possible to prevent enemy players from easily disabling the shield.
Placing the generator behind the Headquarters can make it harder for troops to disable the shield before attacking the Headquarters.
If the attacker decides not to attack the Shield Generator and instead decides to wear away at the shielded Headquarters, the Shield Generator will grant your defenses lots of additional time which can be critical to a successful defense.
If you decide to have more than one Shield Generator at a time, spread them out as much as possible to prevent attackers from easily destroying them all.
Version Differences
At Mark I, the Shield Generator is a light blue machine with a black top that has a glass dome containing an electric coil at one end.
At Mark II, the top part of the device has a second glass dome containing another electric coil at the opposite end.
At Mark III, the Shield Generator is made up of what seems to be two Mark II Shield Generators placed right next to each other.
Trivia
The mark III Shield Generator appears to be two mark II Shield Generators placed right next to each other. However, the mark III Shield Generator improves the Headquarters' health by 150% whereas two mark II's would improve it by 200%.
The Shield Generator and the Ice Statue's health improvements are multiplicative; the shield's strength is its percentage value of the Ice-boosted HQ. This is unlike the Damage Amplifier, whose damage improvements and the Ice Statue's are additive.
Multiple Shield Generators have an additive effect to the shield, i.e. two mark IIIs would make a shield at 300% of the Ice-boosted health of the HQ.
Unlike other Defensive Buildings and Prototype Defenses, the generator can be hidden behind Obstacles without making them become transparent. However, the black cable that connects the generator with the headquarters often gives it away.
Statistics
Mark Number

Generator Health

Shield Strength

Build Cost
Build Time

Weapon Lab
level Required
Fuses

Gears

Rods

Capacitors

1
20,000
50%
0
3
3
0
1h
1
2
27,500
100%
6
3
0
3
4h
3
3
35,000
150%
9
0
3
6
12h
5