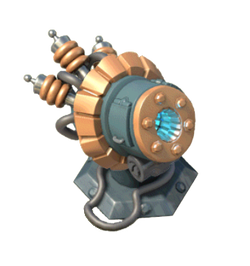 "The Shock Launcher fires shock bombs, similar to those in your Gunboat's arsenal. Enemy troops caught in the area of effect are briefly stunned and unable to move or attack."
---
| | | |
| --- | --- | --- |
| | | |
| Level 1 | Level 2 | Level 3-9 |
---
Summary
Offensive Strategy
Shock Launchers are a threat to any troop composition because they will immobilize your Troops which gives other defenses more time to take them out, so it may be best to destroy Shock Launchers with Barrage or Artillery before landing your Troops.
A Shock Launcher firing at you for a long period of time while you are using a Tank strategy can be a problem. Tanks are already slow and a Shock Launcher stopping them every few seconds will make them even slower, which may cause you to run out of time in an attack.
Defensive Strategy
Shock Launchers are most effective at immobilizing Warriors that are attacking your Headquarters. It will hinder a great number of them from dealing damage to the Headquarters in that crucial time. Make sure your Shock Launchers are within range of the Headquarters.
Try to place them away from your Flamethrowers that are near the Headquarters because these two defenses are the best ones for stopping Warriors, and you do not want to make it easy for attackers to Shock Bomb them all.
Try to place them where it covers as many of your other Defensive Buildings as possible so that it can slow down other approaching Troops.
Like the Flamethrower, it is great when placed between the HQ and the edge of the island; Warrior attackers that flare directly to the HQ will not be able to shock the Shock Launcher without shocking a large portion of their Warriors.
Two Shock Launchers whose levels add up to at least 13 firing at a troop at a staggered rate can immobilize it indefinitely so place your Shock Launchers strategically.
Upgrade Differences
Initially, the Shock Launcher is a gray structure with a metal base, and a short barrel. There is a thin bronze ring at the end of the barrel, and a larger, engraved one surrounding the barrel. It has a hexagonal base with a wire laid across it.
At level 2, the Shock Launcher gains two tesla coils in the back.
At level 3, a third coil is added between the other two.
Trivia
Neither Building Health nor Defensive Building Damage Statues nor Damage Amplifiers will increase the stun time of the Shock Launcher. Its stun time can only be increased by upgrading it. However, Defensive Building Damage statues will increase the damage each shock does to troops.
While the Shock Launcher can damage and kill weak troops like Zookas, the player's gunboat Shock Bomb cannot.
The Shock Launcher is the defensive structure with the highest amount of health at max level you can build, excluding Prototype Defenses.
Statistics
| HQ Level | 1 | 2 | 3 | 4 | 5 | 6 | 7 | 8 | 9 | 10 | 11 | 12 | 13 | 14 | 15 | 16 | 17 | 18 | 19 | 20 | 21 | 22 | 23 |
| --- | --- | --- | --- | --- | --- | --- | --- | --- | --- | --- | --- | --- | --- | --- | --- | --- | --- | --- | --- | --- | --- | --- | --- |
| Number Available | 0 | 0 | 0 | 0 | 0 | 0 | 0 | 0 | 0 | 0 | 0 | 0 | 0 | 0 | 0 | 0 | 1 | 1 | 1 | 2 | 2 | 2 | 2 |
| Building Size | Range | Attack Speed | Damage Type | Splash Radius | Special Ability |
| --- | --- | --- | --- | --- | --- |
| 3x3 | 4-18 | 5 Seconds | Splash | 3 Tiles | Immobilizes Troops |
Input total Statue bonuses to modify the statistics in the table below accordingly
Building Health+%
Defensive Building Damage+%
Level

Hitpoints

Damage Per Second

Damage Per Shot

Shock Duration

Upgrade Cost
Upgrade Time

Instant

HQ Level Required

XP Gain

Wood

Stone

Iron

1
7,000
12
60
1.4s
810,000
670,000
420,000
8h
1,747
17
18
2
7,700
13
65
1.6s
940,000
780,000
490,000
10h
1,951
17
20
3
8,470
14
70
1.8s
1,150,000
1,050,000
690,000
12h
2,358
18
22
4
9,300
15
75
2.0s
1,480,000
1,350,000
890,000
14h
2,812
18
24
5
10,200
17
85
2.2s
1,670,000
1,620,000
1,270,000
18h
3,279
19
25
6
11,300
19
95
2.4s
2,040,000
1,980,000
1,560,000
20h
3,780
19
28
7
12,400
21
105
2.6s
2,470,000
2,470,000
2,460,000
1d
4,627
20
32
8
13,600
23
115
2.8s
2,880,000
2,880,000
2,870,000
1d 6h
5,203
20
36
9
15,000
25
125
3.0s
3,300,000
3,300,000
3,300,000
1d 12h
5,774
20
37