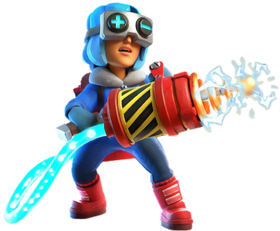 "The Shockaneer shocks enemy buildings, stunning them and dealing moderate damage. Be careful, as your own troops can be stunned by her Shock Beam!"
Summary
The Shockaneer is a prototype troop only avaliable via events or on Warships.
Shockaneers fire lightly-damaging electrical beams which stuns enemy buildings and allied units in her way.

They do not deal damage to troops.
Visual Appearance
The Shockaneer looks similar to the Cryoneer but the Shockaneer wears visors with plus and minus signs on them, and carries a tesla gun connected to her backpack via a cyan cable.
Offensive Strategy
Use them similarly to Cryoneers. Due to their low damage per second, they are not recommended to be used alone. Combine them with Zookas or other high-damage troops to alleviate this.
Since they slow down the firing rate of enemy turrets effectively dropping their damage output by a percentage instead of a raw number, they are endlessly useful for supporting other troop formations like Heavy-Zooka even on bases with very high damage boosts like Gearheart or upper-level Operation bases, unlike Medics whose raw-point-value healing effect gets quickly overpowered in these situations. The Heavy-Zooka-Shock formation is very, very effective.
Unlike Cryoneers, Shockaneers can be safely used with Scorchers or Incinerators as their fire based attacks don't interact with shock-based stun.
Defensive Strategy
A Shockaneer have moderate health so a Cannon or Boom Cannon can take her down in one shot if it is high-leveled.
Due to this moderate amount of health, a few salvos from a Rocket Launcher or a few shots from Mortars may also work on wiping out a few Shockaneers at once.
Avoid clustering defenses whenever possible because this provides Shockaneers the opportunity to freeze more defenses at once.
Trivia
Shockaneer's visors are based on the positive/negative electrodes on batteries. This proves that Shock-based attacks in this game were relevant to strong electrical currents.
The name 'Shockaneer' may be a pun of 'Shock' and either 'Engineer' or 'Pioneer'.
Statistics
| Unit Size | Training Time | Movement Speed | Attack Range | Attack Speed | Shock Duration |
| --- | --- | --- | --- | --- | --- |
| 4 | 8m | Moderate / 250 | Medium / 6 Tiles | 0.075s between hits in beam, 2s reload time | 5s |
| Level | Hitpoints | DPS | Damage per Shot | Beam Extension | Training Cost | Upgrade Cost in Proto Tokens |
| --- | --- | --- | --- | --- | --- | --- |
| 12 | 625 | ? | ? | 11 | 7,200 | N/A |
| 13 | 650 | 9 | 9.82 | 12 | 7,400 | 250 |
| 14 | 684 | ? | ? | 13 | 7,600 | 350 |
| 15 | 727 | 9 | 10.27 | 14 | 7,800 | 450 |
| 16 | 779 | ? | ? | 15 | 8,000 | 550 |
| 17 | 840 | ? | ? | 16 | 9,000 | 650 |
| 18 | 910 | 10 | 10.95 | 17 | 10,000 | 750 |
| 19 | 989 | ? | ? | 18 | 11,000 | 850 |
| 20 | 1,077 | ? | ? | 19 | 12,000 | 950 |
| 21 | 1,174 | ? | ? | 20 | 13,000 | 1,050 |
| 22 | 1,280 | 11 | 11.85 | 21 | 14,000 | 1,150 |
| 23 | 1,395 | 11 | 12.07 | 22 | 15,000 | 1,250 |
| 24 | 1,519 | 11 | 12.3 | 23 | 16,000 | 1,350 |
| 25 | 1,652 | ? | ? | 24 | 17,000 | 1,450 |
| 26 | 1,794 | ? | ? | 25 | 18,000 | 1,550 |