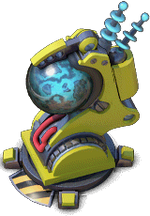 "Sets up a defensive shield around itself, protecting all buildings under the shield from gunboat projectiles. The shield dissipates if it's bombarded enough or if the building is destroyed."
---
---
Summary
The Sky Shield is a Prototype Defense that can be built inside the Weapon Lab.
Like other prototype defenses, they will only last for a limited duration after being deployed.
The Sky Shield projects a shield for the area directly around itself. Any Gunboat Weaponry that makes contact with the shield will be absorbed and have no effect on the buildings it covers. However, Artillery and Barrage can damage the shield directly.
If its shield is destroyed by Artillery and Barrage, the Sky Shield automatically destroys itself as a result, much like how a Shield Generator self-destructs after its shield on the Headquarters or Power Core is destroyed directly. Likewise, destroying the Sky Shield using ground forces will destroy the shield it projects.
The Sky Shield generator is able to be directly damaged by ground troops, whether they are under the shield or not.
Offensive Strategy
Defensive Strategy
Statistics
| Building Size | Range | Special Ability |
| --- | --- | --- |
| 3x3 | 6 | Creates a shield around itself against Gunboat Weaponry |
Input total Statue bonuses to modify the statistics in the table below accordingly
Building Health
+
%
Mark Number

Health

Shield Health

Build Cost
Build Time

Weapon Lab
level Required
Fuses

Gears

Rods

Capacitors

1
20,000
20,000
0
2
0
4
1h
1
2
27,500
22,500
8
2
0
2
4h
4
3
35,000
25,000
3
3
9
3
12h
5