Meet the wiki's staff! They are always willing to help out in any way that they can. If you have any questions, problems to report, or just want to talk about anything on the wiki, always feel free to contact one of them on their Message Wall.
Bureaucrats
---
Favoured Nicknames: Kk
Tags: Bureaucrat
Roles: Editor, Enforcer, Admin, Bureaucrat
Likes: Commitment, Helpful, Coding
Dislikes: Cheese, Inactive People

---
I am the creator and the destroyer I am the hand of madness bow down to me my subjects!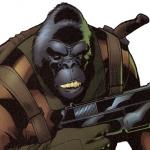 GorillaMan
---
Favoured Nicknames: Gorilla, Gman
Tags: Bureaucrat
Roles: Encoder, Enforcer,
Game center: Private

---
The options are limitless. Because every new day could be my last I have developed a desire to make the most of each and every minute
Administrators
| | |
| --- | --- |
| Favored nickname: | Spot |
| Tags: | Administrator |
| Roles: | Editor, Copywriter, Encoder |
---
"When I was 5 years old, my mother always told me that happiness was the key to life. When I went to school, they asked me what I wanted to be when I grew up. I wrote down "happy." They told me I didn't understand the assignment, and I told them they didn't understand life."
—Anomymous
Rollbacks
Name: IceIceIceIceIce

Aliases:

Ice; Maximitas; Lt. Hammerman

Position:

Rollback

Primary Job:

Generally being (un)helpful

Secondary Job:

Image cropper + source

Tertiary Job:

Writing the Boom Beach Story

---

Be More Positive!
Tags
Rollback

- Rollbacks are here to make sure vandalism is controlled. Rollbacks are given extra abilities to help them manage edits and combat vandalism.

Administrator

- Administrators oversee the growth and development of the wiki. They can edit any page, protect, delete, and rename pages, and add more advanced code to the wiki. Administrators here are also Rollbacks.

Bureaucrat

- Bureaucrats manage user rights. They are the ones who can change the tags of other users here. Bureaucrats here are also Administrators and Rollbacks.
Community content is available under
CC-BY-SA
unless otherwise noted.