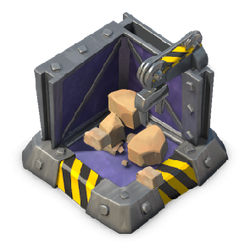 "Stone Storage increases your Stone storage capacity."
---
| | | |
| --- | --- | --- |
| | | |
| Level 1 | Level 2-3 | Level 4-5 |
| | | |
| --- | --- | --- |
| | | |
| Level 6-8 | Level 9 | Level 10 |
---
Summary
The Stone Storage stores Stone.
Stone is a medium level construction material used in almost all upgrades and constructions after you have unlocked it.
Unlike some other real-time strategy games, if this building is destroyed during a battle, the attacker does not necessarily gain some of the Resources in it. The only way Resources can be taken from it is if the attacker destroys the Headquarters.
Upgrade Differences
Initially, the Stone Storage is a wooden repository with a purple platform.
At level 2, a one-sided fence is added. The wood on the sides of the Stone Storage become purple.
At level 4, another fence is added adjacent to the first fence. The corners of the Stone Storage are now padded with stones, and the supports are now metal.
At level 6, the whole structure becomes metal with a stone base. The supports' design changes.
At level 9, the walls are heightened, and the base is now covered in a dark metal.
At level 10, the base is further reinforced. A crane now lifts stones around, and caution designs are added to various parts of the storage.
Trivia
The positions in which the stones are stored in the storage is exactly the same every level.
Statistics
| Headquarters Level | 1 | 2 | 3 | 4 | 5 | 6 | 7 | 8 | 9 | 10 | 11 | 12 | 13 | 14 | 15 | 16 | 17 | 18 | 19 | 20 | 21 | 22 |
| --- | --- | --- | --- | --- | --- | --- | --- | --- | --- | --- | --- | --- | --- | --- | --- | --- | --- | --- | --- | --- | --- | --- |
| Number Available | 0 | 0 | 0 | 0 | 0 | 1 | 1 | 1 | 1 | 2 | 2 | 2 | 2 | 2 | 2 | 3 | 3 | 3 | 3 | 3 | 3 | 3 |
Building Size

3x3
Input total Statue bonus to modify the statistics in the table below accordingly
Building Health
+
%
Level

Hitpoints

Capacity

Upgrade Cost
Upgrade Time

Instant

Headquarters Level Required

XP Gain

Wood

Stone

Iron

1
1,000
4,000
6,600
1,160
N/A
1h
51
6
10
2
1,200
8,000
10,300
2,060
N/A
1h 45m
76
7
13
3
1,400
16,000
17,800
3,900
N/A
2h 30m
108
8
15
4
1,700
32,000
29,000
6,900
1,840
3h 15m
154
9
18
5
2,000
64,000
64,000
23,300
6,700
5h
276
11
24
6
2,400
125,000
101,000
47,000
12,400
6h
385
12
26
7
2,900
250,000
147,000
89,000
25,200
7h
519
13
28
8
3,500
500,000
212,000
185,000
51,000
8h
713
14
37
9
4,200
1,000,000
380,000
286,000
104,000
10h
1,005
15
42
10
5,000
2,000,000
810,000
670,000
420,000
12h
1,790
17
51