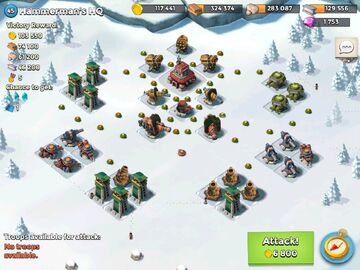 The Strategy Section on this website says to use warriors to take Hammemans base down. It doesn't work. I've tried it. Watch the video below to see how I beat him.
Artillery level: 15 | Barrage Level: 9 | Troop Combination: 13 Grenadiers, 3 Medics, and 2 Tanks | Gunboat Energy: 70 

1. One barrage each on 2 rockets (left side); then 1 bomb each

2. Deploy all grenadiers and medics on bottom right hand side of base; flare to far right

3. When machine guns are 1/2 dead, deploy tanks and reflare to same part where you flared before

4. Destroy the 3 cannons and flamethrower to get Gunboat energy

5. Flank to the backside of base, right behind hq

6. Destroy base
GOOD LUCK!
Community content is available under
CC-BY-SA
unless otherwise noted.