This guide is to help new Discussion Moderators, present and future, to become acquainted with their new rank and abilities.
What does it mean to be a Discussion Moderator?
Discussion Moderator is a rank that is typically given to Rollbacks. Being promoted to Rollback and Discussion Moderator means that you have been recognized as a helpful and trustworthy user and are ready to be given some extra tools to help manage the wiki.
What can I do now that I am a Discussion Moderator?
Discussion Moderators are given tools that allow them to manage Forum threads, article comments, Live Chat, and Message Wall threads.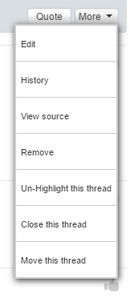 Moderators can:
Close, reopen, remove, and restore threads
Remove and restore replies
Highlight and un-highlight threads
Move threads between boards
Manage boards (editing names, descriptions and order)
Delete and edit other people's article comments
Kick and ban users in the wiki's Live Chat
Expectations
Discussion Moderators should use their tools to enforce thread related rules such as the following:
No post or comment should contain inappropriate content, profanity, bullying, or scams. Any offending posts/comments should be removed.
A Task Force should not have more than one thread about them. Any threads about a Task Force that already has another thread should be removed.
Threads should be posted on the correct Board. Any threads on the wrong board should be moved.
Discussion Moderators/Rollbacks should not have to worry about highlighting/unhighlighting or managing boards. If a change to either of these things is needed, it should be discussed with an admin or bureaucrat.
Being a Rollback
If you are a Discussion Moderator, you should also be a Rollback. Click here to read about being a Rollback.
Community content is available under
CC-BY-SA
unless otherwise noted.