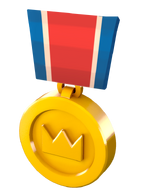 General Information
Victory Points represent the success of your campaign.
The game's Matchmaking system, Rank System, and Leaderboards are based off Victory Points.
The game also provides Daily Rewards and Supply Chests based on Victory Points to encourage liberating more islands.
There is an Achievement called War Hero for achieving certain amounts of Victory Points.
Ranks
Victory Points also determine your rank.
Main article: Rank
Ways to Lose and Gain Victory Points
Community content is available under
CC-BY-SA
unless otherwise noted.