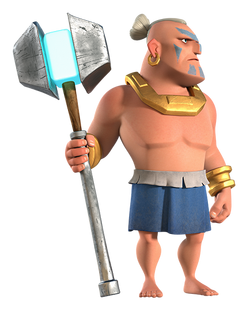 "We're a warrior tribe of many strong men! Let us join your fight against the invaders."
Summary
The Warrior is the fourth troop unlocked in the game. It is unlocked upon reaching Headquarters level 8.
Warriors use melee attacks rather than guns and have relatively high damage.
Warriors have the fastest movement speed out of all troops.
The Warrior's health is higher than a Rifleman's and can also heal himself through attacking making him very useful.
Visual Appearance
The Warrior appears as a slightly tanned, muscular man with white hair, gold jewelry, and a blue crystal hammer.
His appearance is similar to that of the male Native Islander.
Offensive Strategy
Defensive Strategy
Upgrade Differences
There are no visual changes between levels, but each upgrade increases the Warrior's hitpoints (by 5.9%), DPS (by 5.8%), healing per hit (by 2 HP), and training cost (by 200 gold).
Trivia
You can have a maximum of 72 Warriors in a complete set of fully upgraded Landing Crafts.
The sculptor shown in the Sculptor building is a Warrior.
Magma Statues do not increase the Warrior's healing per hit.
Statistics
| Unit Size | Training Time | Movement Speed | Attack Range | Attack Speed | Headquarters Level Required |
| --- | --- | --- | --- | --- | --- |
| 3 | 3m | Fast / 300 | Melee / 0.9 Tiles | 1s | 8 |
| Level | Hitpoints | DPS | HP Healed per Attack | Training Cost | Research Cost | Armory | Research Time | Instant | XP Gain |
| --- | --- | --- | --- | --- | --- | --- | --- | --- | --- |
| 1 | 400 | 160 | 40 | 800 | N/A | N/A | N/A | N/A | N/A |
| 2 | 424 | 169 | 42 | 1,000 | 155,000 | 5 | 16h | 308 | 42 |
| 3 | 449 | 179 | 44 | 1,200 | 294,000 | 6 | 22h | 416 | 50 |
| 4 | 475 | 189 | 46 | 1,400 | 470,000 | 7 | 1d 6h | 545 | 57 |
| 5 | 503 | 200 | 48 | 1,600 | 680,000 | 8 | 1d 7h | 618 | 60 |
| 6 | 533 | 212 | 50 | 1,800 | 800,000 | 9 | 1d 9h | 668 | 60 |
| 7 | 564 | 224 | 52 | 2,000 | 900,000 | 10 | 1d 13h | 729 | 64 |
| 8 | 597 | 237 | 54 | 2,200 | 1,230,000 | 11 | 1d 20h | 870 | 71 |
| 9 | 633 | 251 | 56 | 2,400 | 1,680,000 | 12 | 2d | 1,010 | 77 |
| 10 | 670 | 266 | 58 | 2,600 | 1,900,000 | 13 | 2d 3h | 1,082 | 77 |
| 11 | 710 | 281 | 60 | 2,800 | 2,280,000 | 14 | 2d 16h | 1,257 | 86 |
| 12 | 751 | 297 | 62 | 3,000 | 3,140,000 | 15 | 2d 20h | 1,466 | 91 |
| 13 | 796 | 315 | 64 | 3,200 | 3,600,000 | 16 | 2d 22h | 1,571 | 91 |
| 14 | 843 | 333 | 66 | 3,400 | 4,000,000 | 17 | 3d 4h | 1,689 | 96 |
| 15 | 892 | 352 | 68 | 3,600 | 4,500,000 | 17 | 3d 7h | 1,800 | 96 |
| 16 | 945 | 373 | 70 | 3,800 | 4,800,000 | 18 | 3d 10h | 1,873 | 97 |
| 17 | 1,001 | 394 | 72 | 4,000 | 5,600,000 | 19 | 3d 14h | 2,042 | 100 |
| 18 | 1,060 | 417 | 74 | 4,200 | 6,400,000 | 20 | 3d 16h | 2,193 | 101 |
| 19 | 1,123 | 441 | 76 | 4,400 | 7,000,000 | 21 | 3d 18h | 2,306 | 103 |
| 20 | 1,189 | 467 | 78 | 4,600 | 7,500,000 | 22 | 3d 20h | 2,401 | 105 |
| 21 | 1,257 | 495 | 80 | 4,800 | 8,000,000 | 23 | 3d 22h | 2,497 | 107 |
| 22 | 1,327 | 525 | 82 | 5,000 | 8,500,000 | 24 | 4d | 2,585 | 109 |
| 23 | 1,399 | 557 | 84 | 5,200 | 9,000,000 | 25 | 4d 2h | 2,680 | 111 |
Warships
Rank

Level

Reserves Size

Upgrade Tokens

Tech Level

1
4
75
N/A
5
2
8
91
57,500
10
3
12
107
84,000
15
4
16
123
123,000
20
5
20
139
195,000
25
Total
459,500
75