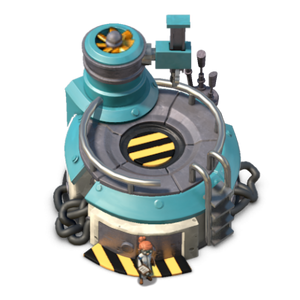 "The Weapon Lab can make powerful prototype defenses out of modules captured from the Blackguard. The defenses available cycle over time."
---
| | | | | |
| --- | --- | --- | --- | --- |
| | | | | |
| Level 1 | Level 2 | Level 3 | Level 4 | Level 5 |
---
Summary
The Weapon Lab is used to build Prototype Defenses.
It is unlocked upon reaching Headquarters level 15.
Upgrading the Weapon Lab allows you to place more powerful and more than one Prototype Defense.
The Weapon Lab cannot be upgraded while a Prototype Defense is being made.

Similarly, a Prototype Defense cannot be made while the Weapon Lab is upgrading.

Building the Weapon Lab will unlock the Hammerman Strikes Back event.
About Prototype Defenses
Upgrade Differences
Initially, the Weapon Lab is a large concrete semicircular structure on a larger circular base. The top is covered by heavy blue plating. A female villager in a lab coat and protective goggles stands next to the lab.
At level 2, the Weapon Lab gains a small blue overhang on the far back. The concrete base is outlined with blue plating.
At level 3, the rest of the concrete base is filled in with another semicircular structure. In the middle is a round metal balcony with a circular warning tape design in the middle. A ladder is added.
At level 4, the blue overhang gains a great deal of bulk, and now has a fan on the top.
At level 5, the blue overhang grows taller and has a drill-like structure on one side. There is a large amount of wire coiled around the place where the semicircular structures do not meet. A warning-tape design is marked on the front of the Lab.
Trivia
Statistics
| HQ Level | 1 | 2 | 3 | 4 | 5 | 6 | 7 | 8 | 9 | 10 | 11 | 12 | 13 | 14 | 15 | 16 | 17 | 18 | 19 | 20 | 21 | 22 | 23 | 24 | 25 |
| --- | --- | --- | --- | --- | --- | --- | --- | --- | --- | --- | --- | --- | --- | --- | --- | --- | --- | --- | --- | --- | --- | --- | --- | --- | --- |
| Number Available | 0 | 0 | 0 | 0 | 0 | 0 | 0 | 0 | 0 | 0 | 0 | 0 | 0 | 0 | 1 | 1 | 1 | 1 | 1 | 1 | 1 | 1 | 1 | 1 | 1 |
Building Size
4x4
Level

Health

Prototype Defense Limit
Upgrade Cost
Upgrade Time

Instant

Headquarters Level Required

XP Gain

Wood

Stone

Iron

1
2,000
1
1,047,000
800,000
293,000
1d 6h
2,065
15
54
2
2,600
1
1,482,000
1,326,000
528,000
1d 10h
2,759
16
58
3
3,300
2
2,400,000
1,995,000
1,268,000
1d 14h
3,950
17
61
4
4,100
2
3,315,000
3,060,000
2,006,000
1d 18h
5,175
18
64
5
5,000
3
4,655,000
4,655,000
4,655,000
2d 12h
7,502
19
77